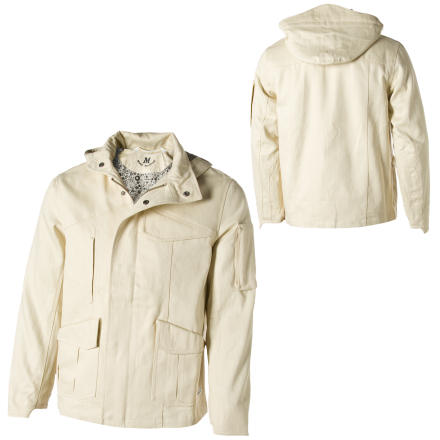 Detail Images
how do u wash this jacket?, there's no...
how do u wash this jacket?, there's no tag.
this jacket is a must buy for anyone with style. The pockets upfront are all magnetic which is really cool, there's even a special pocket for glasses which is lined with lens cleaning fabric. the jacket fits nice and slim and is actually quite heavy, 5 pounds i think. The build quality is amazing and the inside pattern is dope.By far the 2 best things are the * magicians sleeve pockets* ( u can open the sleeve pockets with in the sleeve, sliding ur phone/ipod right into your hand)and that they send you a pack of raw papers for... tobacco?great jacket, price is a steal, hemp fabric will last u forever.
Shibby... best internet purchase in years
I ordered the winter version of this but it was too warm for use in the Bay Area (Easy Bay... shibby), after a quick return I'm sporting the summer version and loving it. The style is great, not flashy. You'll look like an upstanding citizen regardless of what you've got stashed inside.

The jacket itself is warm, heavy enough to block the wind easily and comfy on the inside. One thing to note is that the cuffs aren't elastic so wind can get up them pretty easily unless you're rockin some gloves to fill that space. I do like the cuffs though with a longer extension over the back of the hand, good design. The detachable hood is well designed and snaps right off.

Pockets pockets and more pockets. Though I was skeptical at first I've slowly been finding functional uses for all of the pockets, stashing my cell in the cuff pocket, headphones on the sleeve, gloves in the front, ... you get the idea. Seems that Hemp Hoodlamb designs are well thought out, making use of high quality fabric, zippers, buttons etc...

I've only had this jacket for a week so I can't testify to any sort of long term durability only that the material feels like it'll hold up over time.

As for the fit, the "semi-slim" tag that DogFunk uses is pretty accurate. I'm 6' 175lbs and a Large is great, not tight but not loose.
Awesome Jacket for Christmas - Santa Eat Your Heart Out
I have been a hemp addict for years (purchasing hemp clothing from various Hemp companies). I am an eco-friendly addict, yet it has to be fashionable. I bought this jacket for my fiance for Christmas. It is such an awesome jacket, Santa eat your heart out. This jacket is made of a heavier hemp material which will keep him warm. My favorite features are the "stash" pockets and the sleeve design (it is shorter on the underside of the sleeve, which prevents the sleeve from getting dirty and allows the wrist free movement). I took this to work to show my co-workers and had many compliments. I know that he is going to like this jacket. I would highly recommend this jacket. As a matter of fact, I purchased the Hemp Hoodlamb Classic Jacket for myself (Item HMP00310) and am sure that I will love it).
Unanswered Question
Ok, one more question: I'm thinking about...
Ok, one more question: I'm thinking about getting the black, does it fade or does the color stay pretty rich after multiple washes?
Two questions actually: 1) How is the fit?...
Two questions actually: 1) How is the fit? I know it says "semi-slim" in the description, but how slim? 2) Does the jacket feel sturdy, I don't mind dropping the cash if it feels like it'll last.
Hemp Hoodlamb jackets are amazing--I've got the Classic Hoodlamb with the faux fur inside. The materials, construction and finishing details are perfect. This jacket will last your entire life, no joke.

The fit on this jacket is a little longer, slimmer and less boxy than a traditional jacket. Expect the torso to come down to your upper/mid thigh. It fits true to size. I'm 6' 160 lbs, and the Large fits perfectly. If you pick up this jacket, you will be loving it.