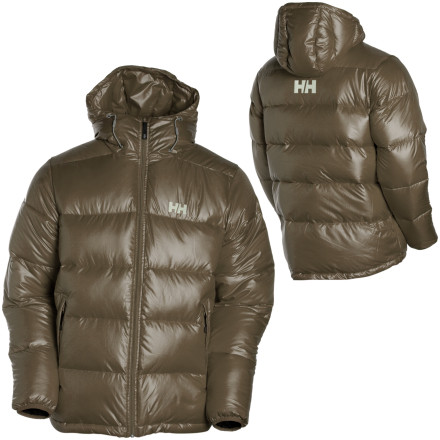 Detail Images
Very cool looking, M fits good 150 5'8, warm, zipper sticks to the inside and is very annoying..buy it if you don't mind the zipper..
, ☃bcs_badge_alumni_label☃
No more Helly Hansen for me
Once upon a time, I owned the best technical down jacket of all time and it was Helly Hansen. The jacket had everything that I've learned to look for in a down jacket, burly material, burly zippers, mesh pit zips, attached hood, and then some. After 2 seasons or a bit over 200 days of skiing, the main zipper failed and I was forced to send it back to Helly Hansen. They were unable to repair the zipper and I was forced to take my pick from their newer puffy coats. At that point I was psyched to be getting some new gear and picked the new top-of-the-line down jacket.
I got my new jacket, tried it on, put my cell phone in one of the front pockets. As soon as I stuck my hand in the pocket to get my phone out the pocket ripped almost completely off of the jacket! Instead of sending it back right away I skied the rest of the season in it with the pocket flapping around. Near the end of that season the main zipper crapped out and I sent the jacket back to Helly Hansen. This time repaired the jacket. The next ski season came and before too long I had multiple zipper failures and was forced to go buy another jacket to ride in. I sent the busted up jacket back to Helly Hansen yet again.
They offered to fix it, but I wasn't having it. A main zipper failure far from home could be deadly and the jackets track record was lame. For whatever reason, they didn't offer me the high end jackets as a replacement and I was forced to take the Montreal.
The Montreal is warm, really warm. But it lacks anything technical and a stroll up the street can leave you wishing for some core venting. Besides that, the main zipper is a joke and gets stuck almost every time unless you pay extra attention to it. The icing on the cake is the shell material. It is the weakest crap I've ever seen used in clothing. I've had my Montreal for a month or so and have multiple holes in it and the feathers keep pouring out of it. I got one tear from brushing up against a dirty car, I mean this stuff is GARBAGE.
I appreciate the customer service, but I'll be throwing away my month old Montreal jacket and getting something I can depend on, probably not Helly Hansen. KC
Unanswered Question
The jacket in red color shows on the picture...
The jacket in red color shows on the picture a more lightish brown color to me. Am I half blind? From Trygve in Finland
Unanswered Question
Does this jacket have a tight or generous...
Does this jacket have a tight or generous fit ? I have long arms and therefore sometimes I need XL and sometimes XXL !!
This is the best down jacket ever. Everyone wants to poke you. My friends have all the other brands, but this is the softest (90% goose down, 10% feather). The Northface one looks like crap next to this shiny brilliance, and the Patagonia puff is pathetic next to H/H's glorious puffology. Everyone is jealous. I work in the city at a design agency and have to walk through a mass of pimps, hookers, and crack dealers, and they all want to jack me for my shiny warm down. I tell those bitches to step off. I wouldn't wear it skiing, especially on any tree lines, but that's what Burton steezy Ronin parkas are for. The jacket is just shiny enough for your girl (or boy) to want to get her eagle-on, but not too shiny to reflect in her eyes, taking the focus off the prize. Buy one, you'll be writing me a thank you letter.
The jacket itself would be great.........
I will return this jacket as the zipper is too wimpy and it catches on the material also.
This is a very warm jacket, but the warm comes with a tradeoff, I think. Well first of all, don't be fooled by the shinyness of the jacket as you see in the pictures. It had me thinking that the shell would be thick and plastic-y, but that's not the case. The outside of it is Nylon, and if you don't know what that is, it's the same material used in your standard umbrella. That being said, I am scared to death of taking this jacket somewhere into the woods, because I'm getting the impression that one scrape from a branch, and down will fly everywhere. I'm a city dweller and I'd be very cautious to run it against the brick of a building or something semi-sharp. I was looking definitely looking for something sturdier as a shell. Now, warmth. This jacket is warm, bottom line. No doubt about that. I went outside in this jacket when it was about 25 degrees here in NYC with a good wind, with nothing but a cotton T-shirt underneathe, and I didn't feel a thing. You start sweating almost immediately if you try it on in a heated building. I can only imagine the warmth it provides if you layer well. You'd be sweating at 20 degrees if you put a fleece underneath this thing. Bottom line, be cautious about your surroundings with this jacket... I think it's the ideal jacket for those who live somewhere with little to no tree's (Great Plains, Saskatchewan, Manitoba, etc).
I have been a Helly snow athlete for four years now and Iove the Helly Hansen down jackets. they keep me warm and dry on and off the mountain and looking good. what more need I say?
Does this jacket come in XXL? Thanks!
Does this jacket come in XXL? Thanks!
It does, it's just not in stock right now.
How the #### can a 700 fill power goose...
How the #### can a 700 fill power goose down jacket sell at 200$!!??Whats the down quality supposed to be on this one?
All quality down jackets are expensive. The price of down has recently become like the price of gas which now, hopefully, will be coming DOWN in price! Like it says, 700 fill & most likely Chinese goose. Most goose down used to come from Europe.
Do you have this jacket in blue?I would...
Do you have this jacket in blue?I would buy it right now if you had it in the aqua blue, the one that Eric Pollard wears in hunting yeti.
Aqua Blue is available from Helly Hansen. I'm sure you could special order it from bc.com.
How good is this for skiing / jibing. And...
How good is this for skiing / jibing. And how water resistant is it?
, ☃bcs_badge_alumni_label☃
This is a super warm jacket...like almost too warm for high aerobic activities. The nylon will shed light dry snow and the slightest moisture, but don't expect a technical waterproof shell as this thing is made for warmth.