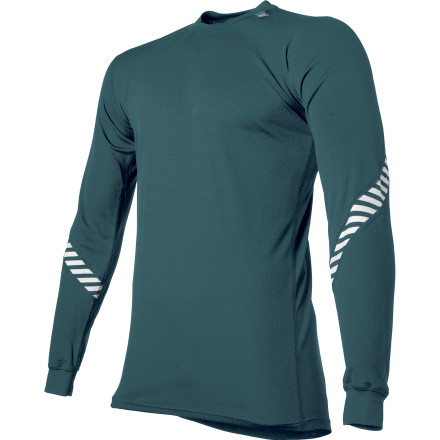 What are you waiting for.
Does what you need, all-day wear, sweat wicking, looks great on, fits well, great length, especially for those a little taller (6 ft I am). What are you waiting for, they're 30% off!
I where this shirt running or as a baselayer on a colder day. I didn't size up because I don't mind a little tighter fit and it isn't restrictive. Keeps you warm and wicks really well.
What can I say: Perfect for high activity sports!
Ordered some LIFA T-shirts.
Great layer, perfect for skiing, biking, hiking, whatever you want it for. The weight is so little, it's like you aren't even wearing a layer. The fabric can either stretch around you, which boosts its wicking performance, or wear it a little baggy for comfort and still great performance. The fabric is comfortable, and not irritating, which is awesome after a long day on the trail. Go to layer under my Patagonia R1 Flash, and a Helly shell.
Nice snug fit!
Just got one at the Helly Hansen mountain battle!

It replaces the original one I owned for over ten years!
Most durable under shirt you can own,good for every active sport you can think of!
Helly Hansen Crew Shirt - Long Sleeve
This base layer is great. I like to wear it on cold days with a few more layers on top. Or, on warm days with just the shirt and a jacket keeping me out of the wind and sun. I definitely sized up, mainly because I don't like the tight, form-fitted feel of most long underwear.
Nice performance and will definitely function at a high level technically. As with all HH gear, sized very small, so go up a size unless you want the cuffs around your elbows.
Good lst layer, I wear snug against skin and then layer on top depending on weather etc., beat a cotton T shirt or turtleneck all to heck.
This shirt provides all one could ask for in a base layer. It is comfortable, warm when combined with proper layers, and incredibly adept at wicking moisture. Not to mention it dries incredibly quickly. I use it for all cool weather outdoor activities, and it always performs like a champ. Helly Hansen did a great job with their LIFA polyprop.
My shirt needs a passport...
... because I never leave home on a trip without it. I like to wear it a little slack, not too tight like the Germans, so order a size bigger than normal.
Helly Hansen Crew Shirt - Long-Sleeve - Men's
A great light weight base layer for outdoor activities. The weight is "perfect" in Arizona for biking, skiing, running and other outdoor activities because of the "wicking" nature of the fabric. I ordered one size larger than normal for a perfect fit. I had the first generation of the fabric years ago and this new version is so much more comfortable. Very functional and dries quickly.
This shirt is pretty cool. The designs on the arms are vents so that helps a bit. Its a pretty tight shirt and is kind of short. I'm a small and the arms were fine but the rest was a little short.
Since Helly Hansen came out with their LIFA I have had the crew shirts in my base layer arsenal. They are the lightest and warmest out there and they dry in just a few minutes.