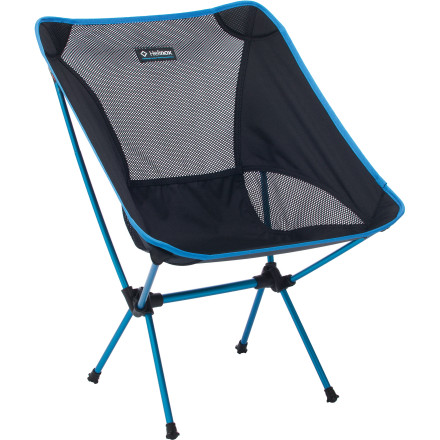 Colors

Detail Images

Community Images
Description
Stores small, feels light, and offers huge comfort after a long day in the woods.
Set up base camp, whip out the Helinox Chair One Camp Chair, and suddenly your friends will regret their decision to sit on the ground or pull up a stump. This comfortable little chair uses a mesh seat suspended on a lightweight aluminum frame. Easy to setup and easy to break down, the Chair One Chair is ideal for car camping or even overnight backpacking trips when you want a little extra luxury around the camp fire.
Pole technology is the same that DAC uses in their high-end Helinox trekking poles and tent poles
Aluminum material makes the poles lightweight and durable enough for seasons of camping trips
Hub-and-pole structure keeps the poles attached at the seat joints so all you have to do is unfold the poles and position the back and seat stays to ready them for the seat cover
Feet have rubberized coating that keep your chair from sliding on rock or slick surfaces
Synthetic cover is made of mesh that's breathable and quick-drying so you can sit comfortably no matter what the weather
Zippered storage bag holds the folded seat cover and collapsed frame so you can save space when you're not using this chair
Maximum weight capacity: 320 pounds
The do-all
Familiarity:

I've put it through the wringer
Got Questions? Contact me and I'll answer your questions or help set up an order for ya.

I've owned a bunch of camp chairs over the years and never been overly stoked on one before. But the One Camp Chair is my go-to for everything.

This chair is always set up in my bedroom in case I want to sit down and have a spot to read. It's gone with me to parties, traveled all around with me since it's super compact and sturdy, ventured to the desert and more.

There are a few things in particular that I really like about this chair.

Storage:
The storage bag is clutch. It's easy to get the legs and the fabric chair into the storage back and easy to ge tit all out.

Compact:
I toss this in my duffel for all my trips and it takes up no space which is perfect.

Weight:
I prefer to go pretty light on my backpacking trips but if I had a trip in mind where I was going to be setting up camp for a few nights and not moving from (after hiking in to the camp) I'd definitely bring this with me. It's not heavy at all.

Built like a brick sh*t-house:
At 185lbs, I'm not a huge person but I'm also not dainty. I've definitely had a few evenings where I've sat down pretty hard and it's had no effects on the chair.

If you've got questions about this chair or any other Helinox ones, feel free to hit me up. Hanging around the camp fire just got a whole lot better (seriously, everyone tries to snag this chair before I sit down).

Jared D.
Expert Gearhead
801.736.4336
jdowns@backcountry.com
Most relaxing chair ever. I was in comfort while the rest were stuck sitting on rocks trees! Very easy to set up and take down only 2 lbs so nice to carry in. And also extremely small. A little pricey but way worth the money. I would defenetly buy another one of these!
Backpackable
Familiarity:

I've put it through the wringer
Hunting for ELK in the wilderness for six days, the first week sat on logs, sixth day going back out to refuel for next week in.

The first thing on the list were comfortable chairs, lightweight. Helinox was high on the list because it weighed 2 lbs and carried a load of 300 lbs. plus. The chairs pack easily, have their own dry sack. They also unpack easily, you don't need instructions, pull them out of dry sack, flop open stuff legs into holes, take the canvas nylon chair fabric and street in place, place on even or uneven ground seeks its level, relax. These chairs are absolutely remarkably comfortable. Oh one more thing sitting around the camp fire, sparks and ember falling on chair, self extinguish burns a small hole but not affecting the strength of material.
Lightweight lounging
Familiarity:

I've used it several times
This is a comfortable chair that's light enough and small enough to put in your backpack for a little luxury at your campsite. The only thing keeping this from 5 stars for me are the legs are a little close together so it's not extremely stable on uneven ground.
Awesome chair, small package...
Familiarity:

I've used it several times
Have 4 of these and love em. They effectively do the impossible sturdy, light, packs small and comfortable. They are not the cheapest chairs, but after getting them, I'd have a hard time using anything else as these are so easy to toss in the pack or the back of the car, and they work well. Worth the money.

Once you get the chairs, you'll have to get the table as well: http://www.backcountry.com/helinox-camp-table
Small package, very comfortable chair!
Familiarity:

I've used it several times
Picked up this amazing chair to fit in my drift boat, storage is limited. Was very impressed when the I saw the bag for the chair, about the size of a water bottle. Very easy to assemble and breakdown after using. This chair has replaced my other camp chairs, its great.
Light and Comfy
Familiarity:

I've used it several times
Excellent portable, lightweight, and comfortable chair. We had a good mix of chairs on the trip with the four guys and this one definitely stood out as the lightest and most compact while maintaining good comfort. Very happy with my purchase!
The Best of the Best
Familiarity:

I've put it through the wringer
I've been using this Helinox chair for a couple of years now, and it never ceases to amaze me. My boyfriend picked one up and I've been coveting it since, so I finally invested in my own- SO worth it. As far as comfort, size, and weight goes there is nothing better. Being off the ground is great, I find it much easier on the knees. It's super compact and easy to take backpacking, hiking, or just going to hang out for the day. It goes on every camping trip, and has been used in place of patio furniture around the house. It's VERY easy to set up and pack away, no fighting with stuffing it into the bag. This chair is easily the best, 100% worth it! It even holds a Newfoundland Bear.
So worth the extra weight!
Familiarity:

I've used it once or twice and have initial impressions
For years I was counting ounces to reduce my load. But with the big 60 looming large, the pendulum is swinging back in the direction of comfort. And so I decided to add these to my kit. And after the first trip, overnight trip to Vincente Flat at Big Sur, I must confess they are great. Half way up we broke them out and had lunch that included panoramic coastal views, spring wildflowers and breaching whales. What a treat. And then we got to camp early so we parked ourselves on these for about 3 hours. They are really really comfortable. And for someone with an iffy lower back they were a real relief. So far the only downside is that they are a little challenging on soft ground. I see that Big Agnes is offering ball feet as an option and Google search will yield some creative solutions. But even with that downside, I still highly recommend.<br /><br />Second trip and I'm loving them even more. Well worth carrying! Kick'n back in the Sierras. These will be like my Travelocity gnomes. I'll photograph them all over the world.
I can't even think of a clever metaphor to describe how awesome these chairs are. They pack down to the size of my climbing harness and are super light, especially when you're used to $10 chairs from walmart. Perfect chair for camping!
Simple, light and durable
Familiarity:

I've put it through the wringer
Easy to put together and super comfortable. I really like how it stores, doesn't take up a lot of room at all! Very sturdy.
Worth the Coin
Familiarity:

I've put it through the wringer
I've used cheap camping chairs all my life, and was blown away by the comfort and packed size of this Helinox. It packs down to more than half the size and weight of everything else I've used, and it's quite a bit more comfortable then anything I've previously used.
Well Worth The Extra
Familiarity:

I've used it several times
This chair is an excellent asset to have in the backcountry! Great comfort after a long day of hiking. Packs slightly bigger than other options, costs a bit more, but so worth it. Still light enough for several days on the trail, and has a crazy solid build. No matter where my outdoor adventures take me, this thing's comin'!
Camp Envy
Familiarity:

I've put it through the wringer
I brought this on a 10 day boundary water canoe trip in northern Minnesota. Hard rocky ground with steep inclines and around 1 inch of soil in spots. My weight is 280 pounds. This was the best piece of gear I brought and everyone I went with will buy one because of the comfort provided after long portages. I was expecting to damage this chair on the trip and it held up flawlessly, only gripe is that the legs will sometimes sink into the ground and will have to be re-positioned. Best investment, durable quality construction, relatively light, and very comfortable. Don't watch your buddy be comfortable while you are sitting on a rock or log.
Great Chair!!!
Familiarity:

I've used it several times
The chair is great! Super DURABLE and super light. Obviously it sits ground level so for those with any knee problems it could be difficult to get out of. For me though I love it, poles are connected with elastic cord just like tent poles, and assembly takes about 10 seconds. two of the poles have a bent shape to them on each end (by design I assume for rigidity) so not all the poles are perfectly straight. I only mention this because it won't pack as small vs if all the pole sections were straight and could lay flat next to each other. Other then that the advertised wight is 580 grams with bag. On my scale it came out to 595 grams. I guess this could matter if your an ultralight backpacker counting grams, or maybe my scale is not as accurate as the one Helinox used. I look forward to many years of use from this chair. Thanks Helinox!!
The chair is light, weighing in at 2 pounds. It easily attaches to the back of my backpack. Very simple to set up. Extremely comfortable when taking a break from a hike. Will be taking it to Philmont this summer! Last trip to Philmont I sat on the ground or a log. This is quite an upgrade and will make the trek more enjoyable.
Wish I could give it 6 Stars
Familiarity:

I've put it through the wringer
I want to sit in this chair everywhere I go.... Takes seconds to put together and packs down small....
A great investment.
Gender:

Male

Familiarity:

I've used it several times
I used to think a camping chair was just a camping chair. I bought one of those cheap $9 chairs from Walmart and thought I was set. Obviously I didn't expect to take those Walmart chairs on backpacking expeditions, I also didn't see the need to buy chairs that cost $100. That was until my friend went and got the Helinox. Every time we went camping, I would be jealous. I finally decided I need one myself. While the chair lacks a cup holder and arm rests, it makes up for it with the size and weight. The set up was simple and it was comfortable. I also have the REI Flex Lite chair, which is pretty much the Helinox Chair One, but less wide and more mesh materials. For cooler temps, the Helinox is great because it is less mesh, but for warmer temps, the REI would be better because there will be more ventilation. The bag that holds the Helinox is a nice touch to the chair. I don't think I will be able to ever go back to those Walmart chairs...
Save your butt
Familiarity:

I've put it through the wringer
No longer do you have to sit on hard, sharp rocks or the dusty ground while enjoying the great outdoors! I've taken this chair backpacking, car camping, and even to outdoor concerts! It's is lightweight and stowable, and fits nicely into a small backpack.