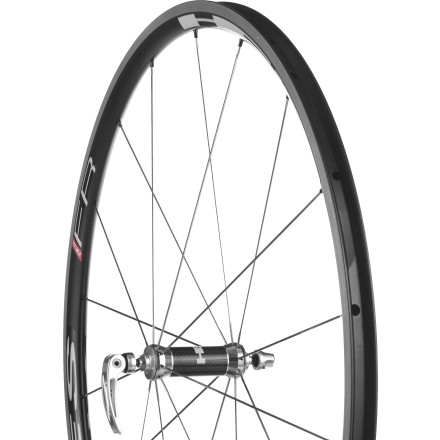 Detail Images

Community Images
Description
The sweetest yet.
Flamme Rouge. No, it's not the name of a fancy dessert at a five star restaurant. It is, in fact, the banner that signifies one kilometer to go in a road race. And maybe the two go hand in hand-as an amateur, winning the race might net you enough winnings to add dessert to your tab. Or, if you're really lucky, maybe you'll be able to buy a set of the HED Ardennes FR (Flamme Rouge) Clincher wheels.
As far as aluminum clinchers go, the Ardennes FR are probably the best wheels out there, and most likely they have remained completely off of your radar. But, if you're self-sponsored, they are perhaps the best bang for your buck with a fast, strong rim that makes you feel securely attached to the ground, no matter what the conditions. The reason they remain so far off the radar is that ProTour teams sponsored by HED tend to keep a low profile, and they don't ride clincher rims. But we're betting that if they paid for their own wheelsets, each rider would own at least one set of Ardennes.
The Ardennes feature an 18-spoke front and 24 rear with a shallow rim depth of 24mm. This depth means that crosswinds should never be the enemy. What makes these stand apart from other shallow profile clincher rims is HED's distinct concept C2. This creates lower coefficient of rolling resistance (Crr) and better aerodynamics (Cda). How does HED accomplish this? They use a 23mm wide rim.
The 23mm width, at a time when most rims are around 19mm, is a big difference. The reason for the wider rims is because the optimal tire with to run for road races in 23mm. A 23mm rim paired with a 23mm tire changes the tire's footprint dramatically. It grips better in a straight line, but also grips more in turns as there is effectively more surface area to roll on. After being extensively tested, it was found that this width has 18% less rolling resistance than a standard 19mm rim. And, because of the smoother shape, the transition air makes from the edge of the tread to the sidewall to the rim wall to the end of the rim is smoother and causes less air disturbance
HED used Sapim's aerodynamic CX-Ray spokes with self-securing aluminum nipples. They are laced radially on the front, while the rear wheel is two-cross for added stiffness. The silver-colored spokes lace to aluminum end caps which have been bonded to a carbon fiber shaft.
The hubs are HED's own Sonic design. These hubs spin on ABEC5 bearings on oversized axles, 12mm in front and 15mm in the rear. HED spaced the flanges as widely as possible to create a stronger bracing angle, resulting in better lateral stiffness. The front hub has a carbon-fiber tube with aluminum end caps. The rear is aluminum with flanges.
The Flamme Rouge designation means that these wheels have been paired down so as to reduce overall weight. Rather than using Aluminum, the lighter Scandium is used. The ratchet ring is titanium and the rear hub received a carbon-fiber port cap as well as a grease port.
HED's Ardennes Flamme Rouge are available in 10-speed-compatible Shimano/SRAM. The wheels come with HED's steel-shafted skewers and rim strips. HED does not recommend this wheelset for people weighing over 190lbs.
What a bargain, what performance.
Familiarity:

I've put it through the wringer
I bought this wheelset, initially, because of the price and reputation. I had wanted to experiment with a wider aluminum rim for a while and this was a great opportunity. The wheelset arrived and was packaged perfectly. The first thing you notice with this setup upon pulling it out of the box is just how light it is. I was impressed. Next, you have to do the obligatory "spin them in your hands" trick, and the bearings were just silky smooth, they seemed to spin for days. So far, so good. I planned on using this setup as a training wheelset, to pretty much abuse them and ride them anywhere and everywhere, so I did. Much to my surprise, these wheels are noticeably faster than most I have owned. They felt as fast as my ZIPP 404 full carbon clincher race wheels, yet they were more comfortable. They made my Scott FOIL more bearable over the rough stuff and with the wider rims, allowed a little less air pressure and the handling was amazing. I actually raced them in a few criteriums and I never felt at a disadvantage while doing so. I think in a long road race you might have a bit of a disadvantage due to the aerodynamics of not being a larger profile aero wheel, but I don't know for sure. This wheelset stood up to on road, fire road and dirt road use. It never got one bit out of true, and they were not treated gingerly. I would highly recommend this product to anyone that was looking for a wheel system that comes pre built. I have moved on to custom wheel sets from a local source, but would not be shy about purchasing this set again if the opportunity presented itself again.
Great wheel set
Familiarity:

I've used it several times
I love these wheels! Yes, you will see grease gushing out of the rear hub after the first few rides but don't worry! I have these wheels on my new ride fitted with Michelin Pro Race 3 tires (same as my other bikes). The ride quality on the Ardennes FR is superb and plush compared with my other wheels - Mavic R-Sys, Mavic Ksyrium SSC SL & Zipp 404. They are light, smooth rolling and very quiet when coasting compared to the Mavics. The wider rims make a huge difference to wide quality with no loss of performance. I was a skeptic but am sold! They will be my wheel of choice in any future build!
Nice wheels, but..
Familiarity:

I've used it several times
Purchased these wheels and a month later the rear hub cracked and failed, which needed to be sent back to HED for a new wheel.

The wheels were nice while they lasted. I am on my second hub, so we will see how long this one lasts. My experience may be in the minority, but i expected more from the brand.
great wheelset for the money
Familiarity:

I've put it through the wringer
light weight, rugged and smooth. great value for the money. initial ride produced leakage of excess grease in the rear hub, but nothing to worry about. grease port on hub makes re-greasing easy and convenient. hub has performed fine since original grease release, just wiped it off and it was good to go.
Magnificent
Familiarity:

I've put it through the wringer
I?ve been riding these wheels for 2 years and have enjoyed every mile. They are ultra-light, ultra-smooth, and provide ultra-grip. Feels very much like a sew-up. Excellent all around every day wheel, especially great for crits due to the larger contact patch and quick acceleration.
Like the newer HED FR - R THESE TUBELESS
Familiarity:

I returned this product before using it
SO are these tubeless rims like their newer siblings? My rating is pointless becuz I don't own these - yet.
I believe there is a weight limit to these wheels set at 190lbs per manufacture. Is that correct? Do you have a Stallion build available at this price?
Shimano/Sram is 9/10 speed Only.
Familiarity:

I've used it several times
Please note that if you are running 11 spd Shimano/Sram you will need HED0032