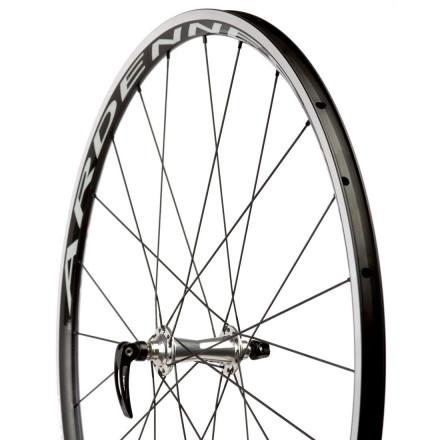 Detail Images
There are those of us who want a lightweight wheelset, but don't trust radial lacing or low spoke counts. These are probably the first people to look at the Hed Ardennes CL Clincher Wheelset. If you weigh 50kg, you're probably looking to put these wheels on your 29er. If you weigh 90kg, you probably shouldn't go this light for your daily miles, but race day might be a different story. Everyone else in the vast middle; it depends on your temperament, riding style, and roads (or lack thereof).
CL is short for Classic. It used to be called the Kermesse: either way, same idea. The wheelset takes the anodized and machined C2 rim of the Ardennes LT, and mates it to flanged Sonic hubs via 24 spokes in the front and 28 in the rear. This is a daily wheel, a cyclocross wheel, something that is designed to roll well and take a pounding.
Making a rim 23mm wide and 25mm deep when most rims are around 19mm wide and 19-23mm deep is a big difference. The reason for the greater width is because of 23mm tires, the minimum tire width you almost always should be using on the road (there are 22mm clinchers; these will work, too). A 23mm rim paired with a 23mm tire changes the tire's footprint. It grips better in a straight line, and it grips better in turns because the tire deforms differently and more evenly. A 23mm tire on a 23mm rim also has lower rolling resistance..
The flanged Sonic hubs run ABEC5 bearings on oversized axles, 12mm in front and 15mm in the rear. They spaced the flanges as widely as possible to create a stronger bracing angle, resulting in better lateral stiffness. The spokes are two-cross front and rear and have Sapim bladed spokes threaded to alloy nipples.
With the Hed Ardennes CL Clincher Wheelset, you choose between a Campagnolo-spline cassette body and a Shimano/SRAM-spline body. The wheels come with Hed's steel-shafted skewers and Hed's rim strip. Hed does not recommends this wheel for people weighing over 225lbs. Claimed weight for the set is 1642g.
What do you think about this product?
Have questions about this product?
I've been riding high end bikes for about 40 years. Custom American, English, Italian and French bikes always with Campagnolo equipment. I have never written a review until now. The HED Ardennes wheelset is an absolute winner, from concept to execution. I always ride 25mm tires on daily rides because our local roads are rough, the better ones are chip sealed. I have gotten used to a degree of vibration and harshness and was willing to trade some performance to save by backside and wrists.



The first ride with the Ardennes was an eye opener. The feeling of confidence when cornering and the smoother ride quality were really a great improvement over my prior wheel set, with the same tires. I was riding with a young Cat 1, who I drafted all through the ride, on a familiar route. To my surprise we averaged a full 1mph faster than I have ever done that ride. The next day, on another route, the same improvement in average speed. Yesterday I repeated the first ride, but solo, and recorded the same average speed as when drafting.



My conclusion is that in addition to improving ride quality and cornering performance, the wider rim must reduce rolling resistance and/or aerodynamics. Whatever the engineering cause, the affect is the best riding set of wheels I have ever owned.