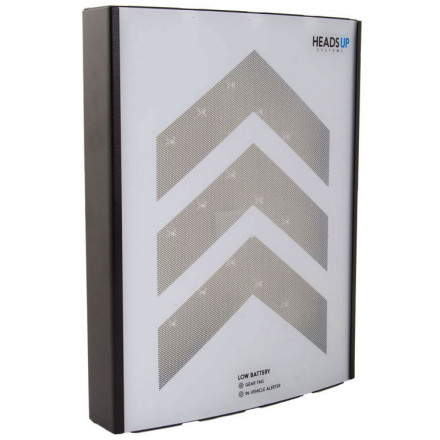 Detail Images
The 'crunch' of your garage leveraging your bike to tear the rack off your car is a sound that's hard to forget. We've all done it. The slow ones have done it at least twice, and there are a few among us with the dubious honor of completing the bike-garage hat trick. Fortunately, the folks at Heads Up Systems have devised a system that will make it easier to avoid that dreaded impact, even if you're in a thick post-race fog. The Wireless Gear Alert System consists of three parts: the garage-mounted LED alert sign; the InCar audible alerter; and wireless gear tags to attach to your bikes, cargo boxes, boats, or anything else that doesn't meet your garage's height restriction.
The LED alert sign mounts to your garage's wall, and plugs into a (hopefully) convenient outlet. When it senses the presence of the gear tags, its upward-facing arrow lights up, alerting you that you will destroy at least one piece of gear if you continue forward. The alert sign will detect the presence of the tags within 50-100 feet, and in addition to lighting up, it sends a signal to the InCar alerter.
When the InCar alerter receives the signal from the sign, it will sound an alarm. The alarm can be turned off by simply pressing a button on the alerter, but the LED sign will continue to flash for a few minutes. We find this feature helpful because of our relationship with the 'snooze' button on our alarm clocks. In the same way that you're likely to continue to sleep after pressing the snooze button, you're likely to turn off the audible alarm, look at your phone, and continue to drive right into the garage. The sign provides a second level of idiot-proofing that we're thankful for.
The gear tags are designed to be wrapped around a handlebar, seat post, or other tube on the bike, but they can also be placed inside a cargo box, in a seat bag, or even on the rack itself. The tags use CR1632 batteries, and typically last about two years. The battery in the InCar alerter typically lasts about a year. The wall sign monitors battery levels in both the gear tags and InCar alerter, and it has a low-battery indicator light to let you know it's time to replace them.
The Heads Up Systems Wireless Gear Alert System includes the LED sign, one InCar alerter, and two gear tags. Additional gear tags and InCar alerters are available and require no additional setup.