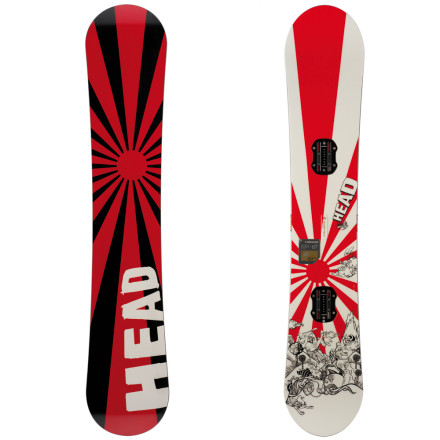 Head Snowboards USA I.CT Intelligence Premium Eric Themel Snowboard
View Larger Image
What do you think about this product?
Have questions about this product?
I have the 2006 iCT - the jet black one. Believe it or not, but you can tell the difference with the intelligence system. On spring corduroy, the board doesn't chatter. When you are riding slow, it gently flexes through your turns. As you build speed it holds a tight edge and runs hard without chatter. The downside? Certain conditions - like pushing the nose down in wet powder - can cause the board to stiffen in response to a deep flex. This has resulted in my traveling over the nose of the board on several occasions. Base is tough, holds lots of wax, and rides really fast. Feels pretty light, but I didn't weigh it against other boards. It appears well constructed and still looks good after 30 days. After living with it for a season, I think it is a good value all around.
Eric Themel talks about his board design
My HEAD ICT Premium is built for every terrain possible. With its remarkable shape and my own design it's made for fun. Different elements like powder, park and pipe are the boards home. To explain the board in simple ways: Nose and Tail are almost the same in radius and kick. The only difference to a pure Twin Tip board is it's Pintail. The board is made for tall guys like me who don't want to switch boards every day. With the rail system it is easy to switch the stance with one tool. Use setback in powder or center the stance for park riding. Or just find a medium stance for everything.

Though the board loves powder, with the twin shape it is fun to cruise around switch and land 5's or more and ride out...even in powder. The board is made for everyone and everybody who is tired of switching boards every 10 minutes. So take it and enjoy it at it's best.

ERIC THEMEL
Head International Team Rider and board designer