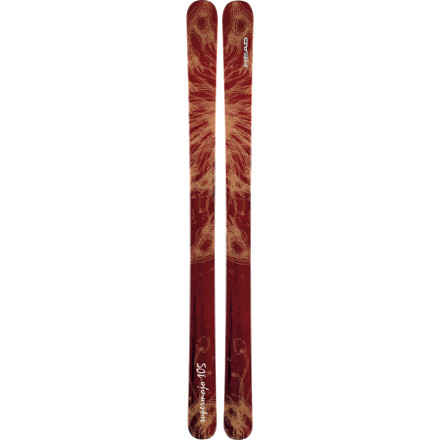 Write your question here...Im looking at...
Write your question here...Im looking at the head super mojos, not sure of what length to get? Im 183cm tall and weigh about 84kg, 191 or 181?
If you are an expert skier at 185 pounds you can handle the 191. However if you like to make lots of short turns or get into tight trees a lot you might consider the shorter ski and mount yourself 1 or 2cm back from the suggested mounting point. This will help keep the tips up in powder and also give you more ski out in front of you which at your weight will be beneficial. you are about at the top of my recommened weight scale for the 181cm for aggressive skiers. If you are less aggressive skier then it changes a little. For example I would put a 60 year old 200 pound man on the 181cm. I hope that helps
the ski you shouldn't have bought
These skis were fine the first 4 or 5 days, until the topsheet flaked off all the way to the core, head will most likely replace the skis, but i thought Heads were bulletproof, getting the Thugs instead... Ski is awesome in almost any conditon, but durability is important to me, so these skis are not for me....
Head skis were one of the first production ski companies in the world. Over that time there has been a lot of changes in the ski industry, and many pioneered by HEAD. The materials used and technology that creates the Head skis can only be experienced as explanation does not justice. These skis are versatile in all conditions, easy to control at all speeds, and stable yet reactive for all skiers capable of harnessing the energy created. Some may consider these skis weapons of winter, but thee skis are made for skiing and for skiers who are ready to experience the sport from your own cockpit.
"Simply put, these skis are awesome."
These can do whatever you want. Mank, pow, deep, icy, bumps, coloiurs...it doesn't matter. A bit heavy, but jeez they are a great all-around twin-tip. I wouldn't recommend trying to tour with these unless you have super-human endurance and wicked-strong hip-flexors. Like Cody said, these are mad stiff, so know what you are buying. I put a pair of old Rainey Hammerheads on em and was very happy on-piste.
This is the ski for bombers. If taking a full speed roll over a cornice, laying down three turns, and then lapping it back to the lift, these are the boards for you. They will rally on groomers, crud, packed powder, the deep stuff, whatever. They are stiff: they will not pop in the deepest snow and turn smearing spoon tip lovers should look elsewhere. These are heavy skis with a long sidecut. They like to go fast in a straight line through whatever Sierra cement or week old Utah crud you can find. If you like to lay it over and just go, buy these skis right now. They get really fun with some Salomon Race Plates.