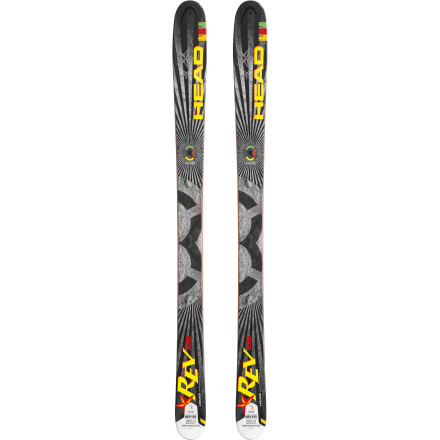 You don't need an easy-turning ski or help in the pow, but don't ask and ye shall receive anyway; the superfast, rip-ready Head Rev 105 Ski gives you progressive sidecut and targeted rocker for more effortless shredfests. Because there's no rule against ripping harder, longer, or faster (but keep an eye out for patrol just in case).
Era 3.0 profile features generous amount of traditional camber underfoot for ultra-grippy edgehold and targeted rocker at tip and tail for easy turning and lift in pow
Wood core is light, snappy, and strong
Sandwich cap construction combines lightweight maneuverability and float and powerful edging
Piezoelectric Intellifibers dampen high-speed vibration
105mm waist is plenty ample for deep snow but still quick-turn capable
Progressive-radius sidecut requires less angulation to get on edge, so turning is a breeze
A standard UHM C base is durable with a slick, fast finish
What do you think about this product?
Have questions about this product?
Medium stiff, super damp, quick-turning
The Rev 105 is probably as damp as any wide ski made. Which, if you like a smooth ride when ripping through cut-up crud, makes it perhaps the best wide ski available.

It has medium stiffness and lots of dampness. Which means you can make it bend at moderate speeds in powder, but still bomb the bowls at 40mph.

It has a round flex, medium stiffness, lots of sidecut, and a little tip rocker. Which allows you to make quick turns whether on groomers or in deep snow by tipping it radically on edge ("steering the ski" is my favorite phrase). Even though it isn't stiff, it doesn't like to slide much. It likes to carve, whether on piste or in soft snow.

It is about 90% cambered, very damp, has a round flex and good edge grip. Which makes it feel great when carving on piste. Lay 'em over and the race is on.

Stable at high speeds, but quick turning. Carves well, but still bends easily in powder. Which makes it a true all-mountain ski. With its width and lack of stiffness, I'd call it 60% powder / 40% piste.

It's a notch softer than the slightly less rockered Line Influence 105. Also a notch softer than the more rockered K2 Sidestash, Volkl Katana, and Blizzard Cochise. Two notches softer than the Dynastar Pro Rider 105 and Nordica Girish. But stiffer than the Elan Olympus Mons, old Volant Chubb and Volant Machete.

Sure it's heavy. I've never found a ski that's totally damp and stable without also being heavy.

When I say it has a 'round flex', I mean two things: that the front half and the rear half of the ski bend about the same amount, and that it doesn't have a stiffer mid-section with softer tip and tail like so many skis do.

In the never-ending quest for a ski that's stable at high speed in rough snow, carves a powerful turn on hardpack, yet is also soft enough to bend in powder, I haven't found another wide ski that delivers as well in all of these traits.
Great 1-ski quiver, for everything!!
Familiarity:

I've used it several times
I got a chance to ski this last season and it immediately became my favorite go-to ski. Wide enough for the biggest pow days and extremely solid and easy to carve it up on-piste. I'm a fan!
I'm 6'4'', 230 lbs, experience all terrain skier that stay most of the day in glades and forest. I want to do some backcountry soon enough. On the groomed trail i liked a short radius ski that push me at the end of a turn. With a tight budget (meaning only one pair of ski) what do you suggest? There is three ski that come to mind; Head REV 105, Nordica NRGY 90 or 100 and Blizzard Brahma. A my wrong? Is there any better? Which binding would you recommand (thinking of Tyrolia Ambition)? Thanks.

JY
Hey J_Y,



I ski on the NRDGY 100's and would love to help you out! Give me a call or shoot me an email!



Ben



801-746-7564

brabinowitz@backcountry.com
The Brahma's are probably your best bet for in bounds, they are the heaviest option though. The best Mix is the NRGY 90 I think. Lighter than the Brahma but still a full sandwich sidewall to hold a good edge.



Tyrolia Ambition is definitely the cheapest option, if you are 230 lbs you should probably get a burlier binding. If I were you, I would go with the Marker Duke, or Atomic Tracker/ Salomon Guardian. To be honest you are going to break the Ambition. I am almost same weight, and I wouldnt click into those.



You can call or email me directly. 801-736-6398, or bporreca@backcountry.com