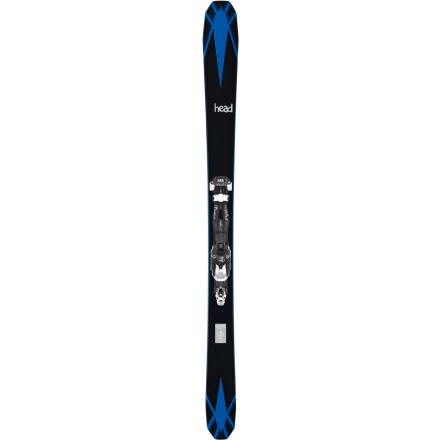 Description
An all-mountain freeride charger.
Skiing nothing but groomers is like eating pizza three meals a day: it's awesome for a while, but before long you'll want to expand your horizons a little bit and try, say, some lobster tails, or at least a hamburger. The Head Collective 105 Ski lets you get a big taste of the mountain's all-you-can-eat buffet of conditions, with plenty of hardpack-devouring traditional camber underfoot and a moderate serving of rocker in the tip and tail that'll let you cruise through powder, chop, and crud without a second thought. Built on a full wood core with a hybrid sandwich cap construction and ABS Tuffwall sidewalls that provide the weight-saving benefits of a cap with the durability and edging power of full sidewalls, the Collective can rally as hard as you want it to while staying nimbler than a cat.

If you're looking at the Collective, though, you're probably checking out the rubbery tip-and-tail doodads and thinking something like "WhaHuhWhoNow?" Stay calm, though—that's just Head's TTS Tip and Tail Stabilizer System, which is basically a shock absorber designed to reduce vibration in rockered skis and provide increased torsional stiffness for a smoother, more powerful ride and better edge control. If that's not enough vibration dampening for you, don't freak out, because the Collective also has an Independent Suspension System, a series of elastomeric inlays in the tip, tail, and underfoot, designed to give you a ride that's smoother than a set of silk PJs on everything from icy hardpack to day-old storm leftovers. Now that's tasty.

Allride Rocker (traditional camber underfoot with rockered tip and tail)
Wood core
Sandwich cap construction
ABS Tuffwall sidewalls
Independent Suspension System
Tip and Tail Stabilizer system
Diecut UHM C base
Share your thoughts
What do you think of the
Head Skis USA
Collective 105 Ski
? Share a...
Responded on
Hey there!

These skis are not "true" twin tips, however with the raised tail, you shouldn't see any issue riding switch from time to time.

Feel free to contact me directly with gear questions or to place an order.

Ivan Mercado
Gearhead
imercado@backcountry.com

Hope to see you out there!
Have the Head Cyclic 115 and absolutely love it, and so nabbed a pair of the Collective 105s for the not-so-deep days. Has anybody here skied the 105? Any mounting point recommendations? Thanks!
Responded on
I would mount them at 4cm behind the ski center. That is the recommended from Head. There is actually a tiny little "R" above that marked spot on the ski. The R stands for recommended but sometimes it gets cut off and looks like a K. Anyhow, I have my skis mounted at -4 and they absolutely kill it in everything! Write a review if you get a chance after skiing them!
Posted on
Head 2014-15 Flight Series Skis
Learn about the Collective 105 and all the flight skis direct from Andrew the US product manager for Head Skis.