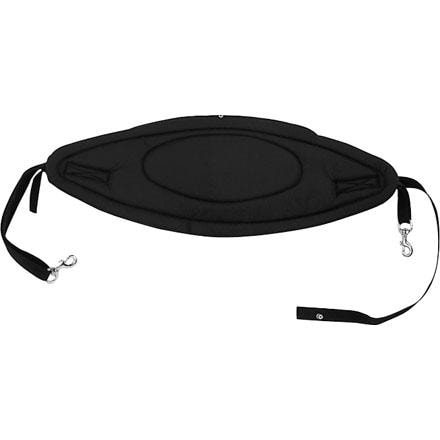 Description
When you're paddling longer distances on your sit-on-top kayak, keep painful back cramps at bay with Harmony's Backband.
Fasten Harmony's Standard Sit-On-Top Backband to your kayak and give your back a break on longer paddling trips. The Backband straps clip into your kayak's deck rigging. Nylon material on the Backband's foam padded back and Harmony's corrosion-resistant fasteners hold up to saltwater exposure.
Share your thoughts
What do you think of the
Harmony
Standard Sit-On-Top Backband
? Share a...
Posted on
The center seat position on my Tarpon 130T...
The center seat position on my Tarpon 130T has no back rest, just a seat indent. Can this back band be used so I can paddle solo in the tandem?
Responded on
Funny...I just hung up from calling Wilderness on this same topic.
The lady that answered the phone finally let me talk to one of the managers. He said "yes" but did NOTrecommend using the Backband because the front seat's back straps can not be easily removed from their cleats so the connect/disconnect will be problematic. He suggested finding an aftermarket seat which I'm finding to be a PITA. :-)
You have to wonder why they created and promote the solo-seat "option" without at least offering a seatback similar to the clip-on tandem seatbacks sold with the 130T or, better yet, a easy way to move a tandem seatback to the solo position Oh well...
Posted on
back rest of large proportions
This thing is huge. I build my own custom kayaks and I bought this to put in my touring boat. Super large size makes it harder to deal with. However, the size also helps because it supports your lower and middle back for all day comfort.
Bottom line, If your tired of your hips being sore after paddling your sit on top, get this and feel comforts warm embrace. Its worth every penny.