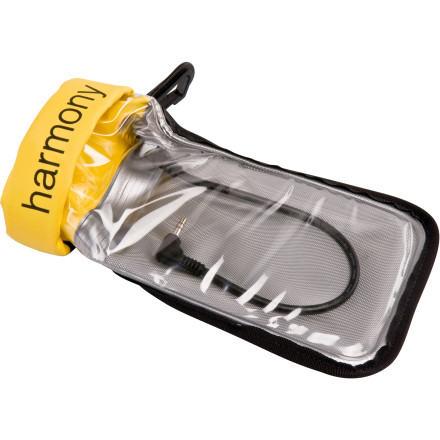 When having some music blasting in your ears helps you keep up the paddling rhythm on a long stretch between islands, bring along your tunes in the waterproof Harmony MP3 Dry Flex Case. Dual-density foam along one side protects your device from impact and helps it float if you drop it in the drink, while the clear urethane panel on the other side allows you to easily skip over the heavy metal your son loaded onto it. A molded clip allows you to attach the MP3 Dry Flex case to the boat or your PFD.
What do you think about this product?
Have questions about this product?
This case fit my iPhone 4 with PLENTY of room to spare. I also have a slider case on the iPhone itself and, still, very roomy. I could fit a cigarette on each side of the phone comfortably. I dunked the Harmony case in the sink for 2 minutes with paper towels stuffed into the case to see if they got wet. They were as dry as when they were put in.

Only "negative" (if you can call it that) is that it's hard to get all the air out of the case when it is clasped shut, so sometimes it's like a deflated balloon when trying to use the phone. But it makes it more buoyant... Either way, this case is perfect for occasions where you want to keep the elements out while still being fully operable.