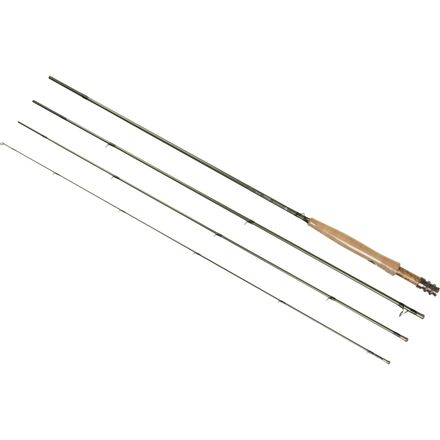 With your heart racing, you cast the Hardy Zenith 4-Piece Fly Rod and watch your fly land perfectly on the water right in front of a large sipping rainbow that's been gorging itself on green drakes all morning. Made with Sintrix carbon fiber blanks, this ultra-fast-action rod delivers precise casting at normal distances and can handle longer casts, windy conditions, and heavier rigs with ease. Suddenly you catch a glimpse of the fish's open mouth as he gulps down the fly. With precision, you set the hook and, thanks to the Zenith's impressive strength, you're able to firmly yet playfully reel this beauty-of-a-fish to the bank and remove the fly without taking the trout all the way out of the water.
Satisfied with your morning, you break down this four-piece rod and marvel at its top-shelf titanium recoil guides from REC and Fuji, stunning two-part skeletal reel seat, and quality appearance. Thanks to its included alloy rod tube, you're able to protect the Zenith during travel and storage. The Zenith is available in a Reverse Half Wells handle (RHW) for those who normally use shorter light line rods or in a Full Wells plus extension handle (FW+EH) for those who like a balanced rod that provides comfort when playing with fish.

Ultra-fast-action rod
Incredible strength-to-weight ratio, Sintrix carbon fiber construction
Top-shelf titanium recoil guides are from REC and Fuji
Hardy's two-part skeletal reel seat
Four-piece design
Available in Full Wells plus extension handle (FW+EH) or Reverse Half Wells (RHW)
Includes alloy rod tube
Hey, nice shot! This specific model is going to be manufactured in Asia.



Give a shout out to Matthew Pizza or Dan Gates our Expert Gearheads with Fly Fishing Gear, they can assist you more with this.
I think it was a rhetorical question.



A lot fly anglers are very particular about buying US made only rods.
Yes, and many of those same fly anglers are driving Hondas, Toyotas and Nissans. Or, have no issue with buying an Orvis if made in England, but not anything from Asia - hmmmm....
Can the discount be applied to the purchase?
Contact me and lets see what we can work out



Dan Gates

Expert Gearhead

801.746.7582

dgates@backcountry.com


What type of rel seat is on the 9 ft 4 wt Zenith rod shown. Written discription is the "skeletal" reel seat, while the solid wood reel seat (newer) is shown?
Hey!



that is going to come with the wooden reel seat as shown. Standard screw ring closure on that.



Thanks!

Dan Gates

Expert Gearhead

801.746.7582

dgates@backcountry.com


Award Winning Zenith with Sintrix Video
Familiarity:

I've put it through the wringer
Hardy's proprietary materials and manufacturing processes have raised the bar. The award winning Zenith is 30% lighter, ,60% stronger and extremely user friendly. Check out the video for more details.
Hardy Zenith Fly Rod Video
Familiarity:

I've put it through the wringer
Hardy changed the game with Sintrix. Sintrix allows for a 60% stronger 30% lighter rod. Does a lighter, stronger and easy casting rod appeal to you? Check out the video and decide for yourself.