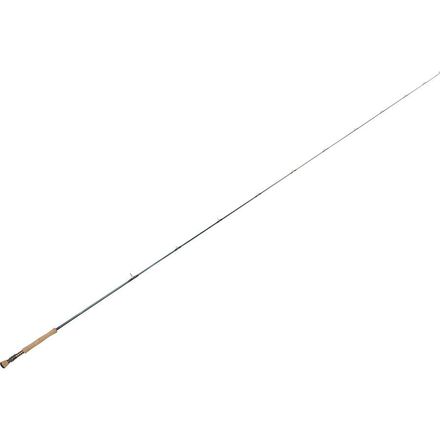 Detail Images
The Hardy 1-Piece Proaxis-X Sintrix Fly Rod was developed and designed by some of the saltiest anglers out there, including legend Any Mill. Now, with an amped-up reel fitting, this exceptional piece of sensational casting is ready for action, close to home or far away. Sculpted from Sintrix, the Proaxis-X is lighter, stronger, and more resilient than its peers so you can cast further, fish longer, and fight harder without fear of your rod failing.
A singular sleek piece of Sintrix, this rod is lighter than its longer, 4-piece counterpart. Sintrix lightens the load in your hand by up to 30% while increasing strength by up to 60%, not to mention enhancing impact-resistance and overall rod longevity. Premium titanium recoil guides move with the line when fighting a big fish but won't whimper or warp, even if you accidentally (gasp) step on the rod. Fast action isn't just for Sunday and stock cars—with a snappy tip and energetic stalk, the Proaxis-X lets your fly soar over the open water and hit the bulleyes with ease and accuracy.
The no-nonsense Pro Guide reel fitting won't falter, and when fitted with the Hardy Fortuna X (sold separately), gives your reeling some reel power. If it's permit your pursuing or spinner sharks you're seeking, grab the Proaxis-X, some 9 or 10wt line, a cooler full of beer, and your camera because no one will believe you brought a 100-pound shark boat-side with such a lightweight rod.

Sintrix 440 (carbon fiber with silica nano-spheres)
1 piece
Full-well handle design with fighting butt
Titanium recoil guides
Deep anodized reel fitting
Fast action
Hardy Fortuna X Reel recommended, sold separately