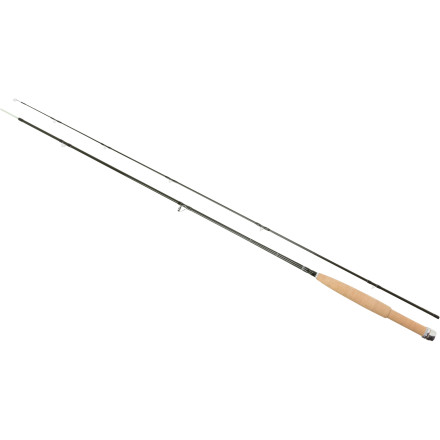 Detail Images
So what if you don't live by a large body of water; you can still get some action in small streams or ponds with the Hardy Glass Fly 2-Piece Fly Rod. A mix of glass fiber and carbon composite construction gives you a smooth action rod with controlled, well-dampened recovery for short-range casting. Ideal for lighter lines, this rod is just right for small-stream anglers working in backcountry rivers and streams.
Glass fiber and carbon composite construction gives you a durable, impact-resistant, and easy-loading rod
Glass Fly Rods allow for short range, controlled presentation with the absolute minimum of fly line beyond the tip ring
Lightweight blanks for convenience
Classic styling and aesthetics for a timeless look
Tapered cork handle with classic styling for comfort
Modified RHW (Reverse Half Wells) handle has a sliding reel fitting
Reverse Half Wells handle has a larger front end that provides better grip for larger hands
Supplied with alloy joint protectors
Supplied with alloy tube and canvas cover provide protection during storage and transport
What do you think about this product?
Have questions about this product?
Pretty fun for the right conditions.
I have the 3wt/7ft Stream rod. Its a super fun rod to fish with... if all the conditions are perfect. Forget about fishing this rod in any wind. You just can't do it.

But if you're fishing a really small stream with really small fly's and a 7x tippet, catching a fish on this thing is super fun.

Definitely not my go to set up, but a fun rod that won't jerk a fly out of a fishes mouth like some other stiffer rods can do.