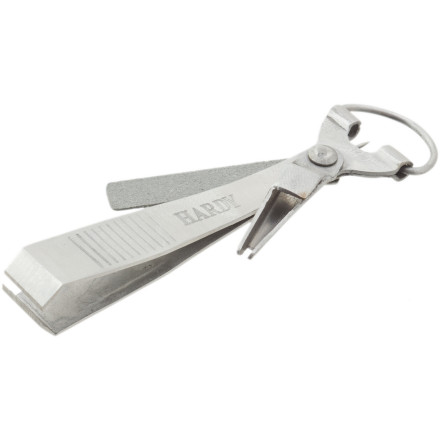 Detail Images
The Hardy Combo Tool comes with stainless steel housing and combines a knot-tyer tip, line snips, a hook-eye cleaner, and a hook sharpener in one convenient package.
What do you think about this product?
Have questions about this product?
maybe it was an anomaly, but this unit broke the 3rd time i used it to snip a line. Straight up defective or cheaply made. I bought it during the clearance event, so the price/hassle of returning it is not worth the price I paid. Nonetheless, I suggest you find a different brand/model.
Four uses on this tool:

1-nippers for cutting mono (tippet/learder)
2-nail knot tool. Used for tying knots like unto the Tie-Fast tool.(http://www.youtube.com/watch?v=611JWRtkjOc)
3-Hook sharpener (file for sharpening hooks)
4-Hook eye cleaner at the base of the tool. Works as a needle to clean out the eye of your hook in case there is left over head cement of a few fibers that need clearing so you can thread the eye of the hook.

You will most likely use the nippers and the hook eye cleaner the most and the other things are added bonuses.