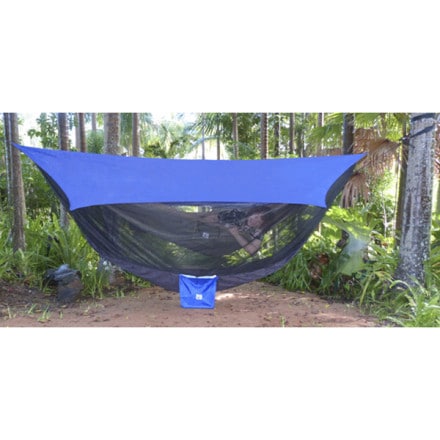 Description
Fire up your latest Swiss Family fantasy and head for the woods.
You already signed up for the hammock-camping lifestyle of living large far from the ground (or a few feet), so complete the package with the Hammock Bliss Sky Tent and snag some weather and bug protection. Fine mesh netting keeps the 'skeeters away, a waterproof roof fends off the weather, a floor helps retain body heat, and the secure rigging lines help you hold gear off the ground.
Oversized rain fly has a water-resistant coating to repel rain and precipitation so you stay dry
No-See-Um Netting keeps out the smallest bugs, resists tears, and provides light protection against mild, chilly breezes
Parachute nylon base helps retain body heat under the tent top and provides space for a laundry-line drying rack
Durable double-pull zippers provide easy, reliable access
80 inches of 6mm climbing rope per side make it easy to hang your tent, and 100 inches of cord at the four corners helps secure the rain fly to the ground
Large, waterproof stuff sack makes for quick packing, and it holds the Sky Tent and your hammock (sold separately)
Share your thoughts
What do you think of the
Hammock Bliss Sky Tent
? Share a...
wait limit? will it fit 2?
Member since
Posted on
wait limit? will it fit 2?
Member since
Responded on
They make a bigger model called the sky tent 2 for that purpose but you could fit 2 people in a double wide hammock inside this one if you were tightly snuggled together. There is no weight limit, it is designed as a hammock enclosure. It can support some weight like a back pack.
Hey, I got a couple of questions. Is the...
Member since
Posted on
Hey, I got a couple of questions. Is the rain fly attached to the Hammock? I have heard your feet are elevated as high as your head while sleeping, is that true? Also I have heard that the sides of Hammocks are tight and push on your shoulders all night...is this true?
Member since
Responded on
No, but they offer a hammock with just a rain fly attached. Yes, you can sleep with your head and feet at the same level or head up and feet down or feet up and head down, it depends on where you place yourself in the hammock really. It depends on the size of the hammock, and if they have spreader boards or if they are short. Some hammocks cradle your shoulders close. Some don't.