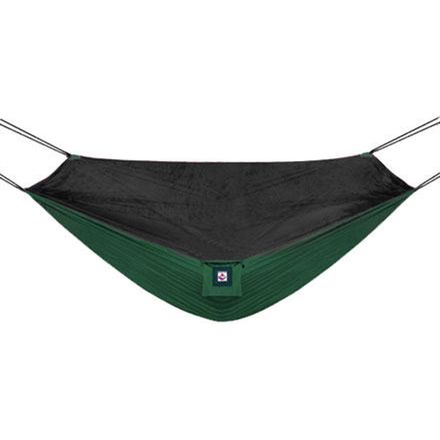 Community Images
The Hammock Bliss No-See-Um No More Hammock encloses you in super-thin mesh no-see-um netting, keeping the bugs away and eliminating the need for on-skin insect repellent. The 2100 holes per square inch black no-see-um netting keeps out the smallest bugs including sand flies, fleas, gnats, midges, mosquitoes & no-see-ums. Just tie the Hammock Bliss No-See-Um No More Hammock onto a tree with the included 100 inches of cord, sit back, relax, and enjoy the evening. A double zipper makes entry and exit easy for midnight bathroom trips in the backcountry, and the included stuff sack condenses this mesh-covered hammock into a small, easily-packable size. The No-See-Um No More Hammock holds up to 350 pounds and weighs only 28oz.
Still not protected from bites!
Familiarity:

I've put it through the wringer
While the net functions very well to keep insects from entering the hammock, mosquitoes are still perfectly capable of biting through the green hammock base. This is especially an issue if bare skin is pressed up against it. As I am currently living in West Africa protection from mosquitoes is essential and with the intense heat of the region I had hoped sleeping in a hammock would bring some relief. The purpose is defeated however if I need to sleep in layers to keep from being bitten. The hammock is extremely comfortable and durable otherwise and packs up easily and compactly. And despite this issue, it is at times still a cooler option than sleeping indoors.
How much does this weigh? The specs don't list a weight. Thx.
According to the manufacturers site, 28 oz or 800 g.

Hope that helps!
Does it come with straps and everything it needs?
It comes with ropes on the ends to attach to a suspension system. Hammock Bliss also sells straps but there are several other companies that make different types of suspension systems.
Very Nice Hammock To Start With
Familiarity:

I've used it several times
After seeing and hearing about how Hammock Camping was such a pleasant experience, I decided to purchase the Hammock Bliss No See Um No More Hammock. I found that it was very comfortable and the bug netting to be very tough and easy to manage. The Hammock does sag more than other hammocks Ive tried but it seems to be just as comfortable and doesn't effect the lay of the hammock. You will have to hang your straps a little higher to get the optimal hight for ground clearance but it is really no problem.

I did purchase a Tarp for this Hammock but it turned out to be too small. I picked up the Hammock Bliss XL Tarp and it fit perfect. I camped in a rain few days in the Adirondacks and stayed dry and comfortable. The Hammock Bliss No See Um No More Hammock is a great hammock to learn how to hang and camp using a Hammock with different rigging. This Hammock is very customizable as far as rigging and is tough enough to bring to the back country for that through hike. Happy Trail.
Solid Hammock
Familiarity:

I've put it through the wringer
Saved my life while backpacking in Maine! Watch out though, misquitos can bite you through the hammock material if your bare skin is up against it. It's a little heavy but otherwise a well built and thought out hammock for a reasonable price.
Best Answer
I'd say you can definitely fit 2 when you're just hanging out in it relaxing (you better really like the other person) but certainly not to sleep in over night. Don't think there's any hammocks you could sleep in with 2 people of that's what you're asking.
What is the difference between this hammock...
What is the difference between this hammock and the Hammock Bliss No-See-Um white one similar to this?



http://www.backcountry.com/hammock-bliss-mosquito-free-hammock?_requestid=2306996
Best Answer
Hey Dominick,

The difference is in the netting. This product has a much more fine mesh as the bug net. It stops even the smallest pests. Mosquitos, gnats, sand flies, midges and fleas. It is also 3 ounces heavier than the white one.
Sweet Hang
Familiarity:

I've used it several times
Get your butt off the ground and kick back in this comfy bug-free hammock tent. I liked mine so much that I bought this one for my daughter. The quality is top-notch and the comfort level is outstanding. This hammock proves you dont have to spend big bucks to get a great hammock.
mmm bug free
Familiarity:

I've used it several times
Having the option to live inside the bug net or be open to the stars is great!!! The net does a great job keeping the b-52 sounding mosquitos out of your ears.
Great for camping
Familiarity:

I've used it several times
This is great for camping! It really helps to cut down on space because with this awesome hammock all I need is my sleeping bag and have no need for a tent or sleeping pad. Love this! Comfortable and even great to set up in the backyard
I spent a week camping at Cumberland Island in Georgia. There were a lot of mosquitoes and other insects, but I slept in comfort the whole week with absolutely no bother from the bugs. If I sleep on the ground, I get a sore back, so this really improved my week. The hammock was tiny when packed, weighed nothing, and was simple to repack. I had no trouble hanging it and when we moved to a site that needed an extension, I just used some longer cord that I had and that worked fine.
Is this a two person hammock?
Is this a two person hammock?
Best Answer
It would be a bit small, but if you want to be close to your camping buddy, it will certainly hold the weight.
Sleeping in any hammock with two people is something that is very difficult. You will literally be on top of each other for most of the night, so just make sure you're ok with that.
Great hammock, easy to set up. Bug net works great and is reversible if you don't need it. I usually like use the hammock without the bug netting because it's just easier to get in and out of the hammock. Aside from that it's a very comfortable hammock and virtually impossible to fallout, even if you're a restless sleeper. My only wish was that there was some way to space out the bug netting so it doensn't feel so closed in...but maybe that's just my own neurosis! :)
Sgt Rock Review Of No See Um No More