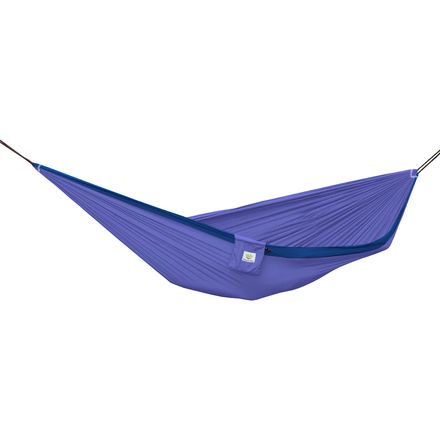 Detail Images

Community Images
Description
All you're missing is a cocktail.
Chill out in the Hammock Bliss Double Hammock after a rough day on the trail or at work. This double-wide hammock has more than enough room for your partner or friend to join you. Made with high-strength nylon parachute material, the hammock resists rot and mildew, feels soft beneath your body, cleans up easily, and dries quickly when wet.
Super-strong 6mm nylon climbing rope extends 100 inches each way, making it easy to set up and providing ample support
Includes a permanently attached travel bag that doubles as a handy gear pouch
Strength-tested up to 350 pounds
Nap Time
Familiarity:

I've used it several times
This hammock is awesome because it comes with ropes built in, no extra strap purchases necessary. The moment you climb into this hammock, you're gonna want to stay there. Perfect for a mid day snooze at the camp site.
Too Sick
Familiarity:

I've used it once or twice and have initial impressions
Incredible deal, I fully intend on using this for backpacking as much as I can!

sidenote- keep it away from your campfire, sparks burn through really quickly.
On my last backpacking trip I got stuck in a tent with this guy who snorred like a grizzley bear. I made the choice to brave the rest of the trip in my hammock. I have never slept better on a pack trip. It could have been problematic had it rained, but the stars were out and I slept very comfortably the whole night through. There are no uncomfortable 'hot spots' when you are sleeping in a hammock after a long challenging hike, and it rocks you to sleep all night long. I am currently looking into a mosquito net and rain fly set-up so I never have to share a tent with a snorring bear again.
Fall asleep in 2.2 seconds. fits two very comfortably
Comes with rope built in to hang which saves you money from buying straps like an eno. Extremely comfortable and it even fits in my tiny dorm room! Packs up in it's own stuff sack that douples as a place to put your headlamp or cell phone. It really is big enough for two also. Me and the girl spent the entire night in it last weekend and slept fine
I picked up this hammock for a trip into the backcountry of BSP. Figured it would lighten my load a little as well as provide some comfort. It does both, light and easy to pack up, easy to hang, and extremely comfortable. I have since made some mounting points throughout my house to hang it as a piece of furniture. Comfort like this is not known to tent campers.
how does this hammock compare to an ENO?
how does this hammock compare to an ENO?
Comparing to the eno double nest (which i have and love), it only has a weight limit of 350 lbs. (eno is 400). Other than that, it's virtually the same size and weight, I just prefer eno because they're based in my hometown and a great company to work with (in terms of supporting their products, etc)
Does this do well on camping or just havin...
Does this do well on camping or just havin it hung up outside your house to sleep the whope night and nap in?
Best Answer
Works great for both.
I have an ENO doublenest. Its essentially the same thing. I have used my hammock in multiple weather types and I have found it to be very comfortable in all of them. There are some steps to stay warm in it, but for summer hiking you can't beat a hammock!
How does the suspension system on this...
How does the suspension system on this hammock work? Does it come with separate rope to hang it from Trees?
Hey Sean,

Super-strong 6mm nylon climbing rope extends 100 inches each way, making it easy to set up and providing ample support