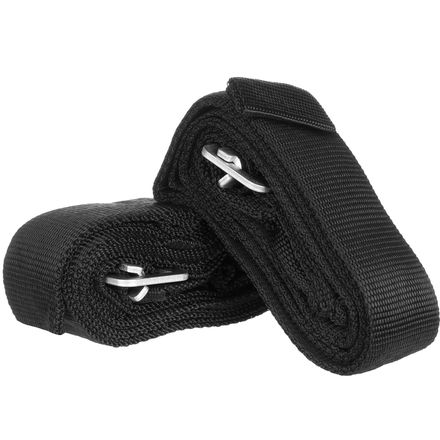 Hammock Bliss's Deluxe Cinching Tree Straps offer tree-friendly suspension system that will extend the distance for hanging your Hammock Bliss hammock. Metal cinching buckles allow you to easily tighten or loosen the tree strap with a simple pull. These cinching tree straps are ideal for quick set up and fast take down of your hammock, and the straps protect the tender bark of trees by evenly distributing weight over a wider area. The Deluxe Cinching Tree Straps allow you to hang your hammock on trees or sturdy objects up to 25 feet apart. Extending the reach of your hammock, these 100-inch suspension straps offer easy setup despite limited trees and anchor points. Hammock Bliss's Deluxe Cinching Tree Straps are super compact as they fit into an included 3 x 5-inch travel bag and weigh in at only 6 oz.
Nice and long
Familiarity:

I've used it several times
This is a pretty nice and easy set up. The straps seem pretty bomber and I've been able to test out some good weight on them with my double hammock. Held up great so far!
The straps looked great out of the bag and were very easy to attach to a tree. Fortunately we did a trial run in the yard before heading out. My daughter thought it was funny to give me a little swing and before I knew it I was on the ground. The stitching (which looks totally solid) tore wide open. I am sending these back and will try the simpler "Tree Straps". I am also going to buy 2 carabiners because tying all of the ends together was a little painful.
Pretty good suspension system.
I like these straps just fine. I've used them pretty extensively and they haven't let me down yet. They don't take up much space, are long enough to get around a wide variety of trees and seem pretty solidly built.
What's the weight limit on these?
What's the weight limit on these?
The straps are rated to 500lb test.