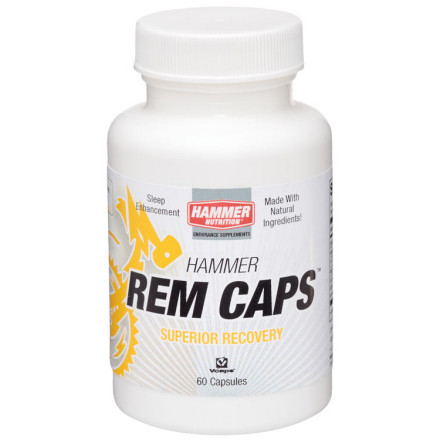 Training, job, family -- it's almost impossible to find the time to devote to adequate sleep. Athletes engaged in hard training especially need the benefits of sound sleep to allow their bodies to recover. Don't let an insufficient amount of quality sleep compromise your health and sabotage everything you've worked so hard to achieve in your training. REM Caps' nutrient combination allows you to reap the health and performance benefits of a more sound, restful, and productive sleep. If you're looking for a safe, effective sleep aid, look no further.
The key of REM Caps is its use of Melatonin -- a hormone that is naturally produced and secreted by the pineal gland, a tiny organ in the brain. Melatonin is responsible for regulating the biological rhythms in humans and is an effective aid to alleviate insomnia. It's also a very powerful antioxidant. One well-known nutritionist has stated that melatonin is 'one of the most powerful antioxidants ever discovered - with a greater range of effectiveness than vitamin C, vitamin E, or beta-carotene...' Another respected nutritionist writes, 'melatonin neutralizes one of the most damaging free radicals, and does so five times more effectively than the antioxidant enzyme glutathione...' Due to its antioxidant benefits melatonin has been shown to be a powerful immune system stimulator, with the potential for helping to prevent certain cancers. One bottle contains 60 capsules.
What do you think about this product?
Have questions about this product?
As I chronic insomniac, these put me right to sleep and keep me asleep. I take it about 30-60 minutes before bed. Like all melatonin products, it can give you some crazy dreams, but only occasionally. But, so worth it to take an all-natural product like REM instead of drugstore pharmaceuticals.
Mixed results
Familiarity:

I've used it several times
I've tried these as an alternative to taking Tylenol PM or shots of NyQuil to sleep. Personally, the results were inconsistent - and I tried them over several weeks. I still have a couple bottles that I'll bring out, but I haven't had the success that I hoped for.
Insomniacs Rejoice!
Familiarity:

I've put it through the wringer
Inexpensive, easy on the system and puts me to sleep. Especially useful for weeks where I'm overstressed. Also useful for nights after training rides or races where your body hurts so bad it's actually painful to try and go to sleep. Highly recommend it!