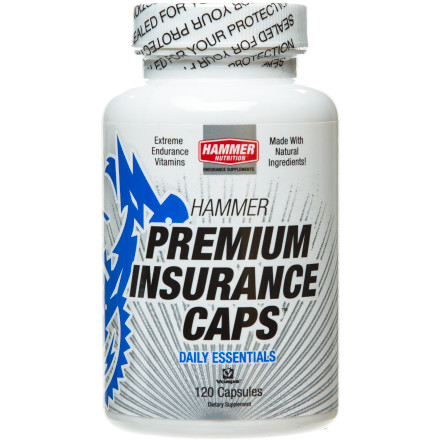 Detail Images
While everyone (especially athletes) should strive to eat a healthy and balanced diet, we're the first to admit that few of us do. Even if you're somewhat obsessed about diet, it's almost impossible to get all of the nutrients you need from your food. It's more or less a universally agreed-upon fact that you need to use a multivitamin/mineral supplement like Hammer Nutrition Premium Insurance Caps. They're insurance against the sometimes degenerative effects of prolonged and repeated exercise.
The key to obtaining noticeable benefits is to provide your body with optimal amounts of nutrients, not just minimum "daily recommended" amounts, and that's where Premium Insurance Caps come in. Formulated with Optimal Daily Intake (ODI) amounts of the highest quality vitamins and minerals, along with an impressive array of "super foods", digestive enzymes, and amino acids, Hammer Nutrition Premium Insurance Caps are one of the best, yet remarkably inexpensive, investments you can make for your health. One bottle contains 120 capsules.
Excellent Multi-V
Familiarity:

I've put it through the wringer
Love this multi-v from Hammer. Great for maintaining your health on an everyday basis, or supplementing your diet when your training demands it. Only complaint is Hammer has the dosage WAY too high. Obviously they'd like you to consumer more, so you run out and buy more, but just take one a day (maybe 2-4 when high intensity training weeks or if you weigh more than 160 lbs), and you'll be feeling great.