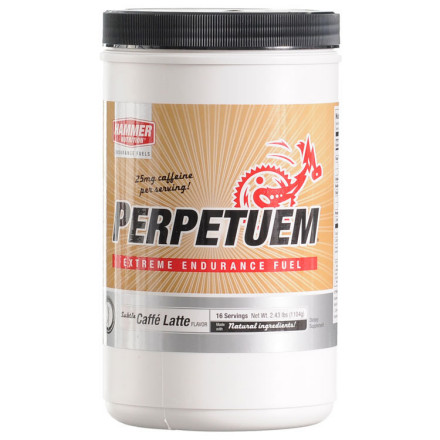 Description
Go the distance, and then some.
Formulated to prevent muscle fatigue during grueling rides and marathon races, Hammer Nutrition Perpetuem Endurance Fuel delivers long-lasting energy on rides lasting three or more hours. Each container has 16 servings of soy protein-based fuel that's both gluten-free and Vegan-certified. Its carbohydrate profile doesn't contain any simple sugars, instead using a specific maltodextrin to provide roughly 87% of its caloric composition in long-chain carbohydrates.
Hammer Nutrition's "XT" soy protein isolate makes up almost 10% of Perpetuem's caloric profile, which is the same amount that's utilized from your muscle tissue during endurance efforts and marathon races. Other important ingredients include Energy Smart sweetener (what's used in Hammer gel), as well as a de-oiled "super lecithin" that's extracted from soybeans for reliable body fuel from stored fatty acids. Note that the Caffé Latte flavor contains caffeine for an extra boost during strenuous workouts.
Contains 16 servings (2.43-pounds)
Caffé Latte flavor contains caffeine
Soy protein "XT" isolate
Energy Smart sweetener
Gluten-free, Vegan-certified
Misleading photo on product page
FYI, Competitive Cyclist is showing the large, 32 serving, container on the product page but what you get is the half-size containers.
Great Long Summit Attempt Nutrition
Familiarity:

I've put it through the wringer
I've used this on many PNW summit attempts, including Rainier, Baker, Adams and Hood, with great success. Matched with the Hammer Gel it totally rocks. You just gotta make sure to hydrate with this combination and those stomach cramps can be avoided.

I've used Hammer Nutrition products since their beginnings (e-Caps) and tried many others, but I continue to return to the one that has delivered when I really needed it.
This has some fat
Familiarity:

I've used it several times
I wanted to like this product. I'm sure it works great for others but for me it was major stomach cramps. I used it only for my very long rides and I suspect the fat content made my stomach turn. Flavor was not great either.
I bought this powder spontaneously, but this stuff performs really well. I always take this before my workouts geared towards anaerobic endurance. when I buy a second I will most definitely go with something other than strawberry-vanilla though. also the price isn't half bad
When the going gets tough, keep on goin'
I used this for the first time in the Whiskey 50 off road. I chose to use the multi hour bottle and this formula kept my muscles working hard for over 4 hours of explosive mountain bike racing. Do take caution, although this stuff works great for keeping muscle fatigue at bay it will not prevent cramping, I suggest using an additional electrolyte supplement if you know the weather is going to be hot. Bottom line is I will continue to use Perpetuem unless I find something better.