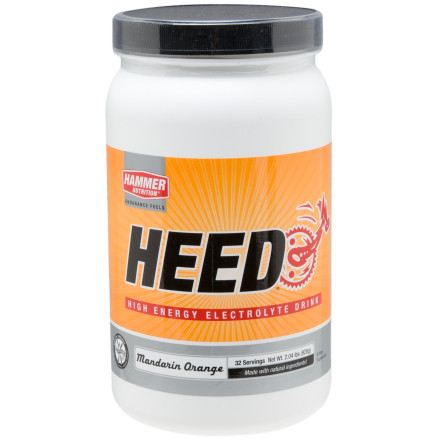 Colors

Detail Images
Description
Pay attention to your body.
Instead of throwing water, salt, and sugar at your body almost at random, try replenishing your lost electrolytes, carbs, and calories with Hammer Nutrition's High Energy Electrolyte Drink (HEED). HEED is less sugary than most sports drinks and drink mixes, which helps you avoid blood sugar spikes and crashes, and focuses more on providing complex carbohydrates and a large spectrum of electrolytes (more than just salt, sugar, and potassium, in other words). Each container has 32 servings, and HEED comes in two flavors, so you don't get stuck with a taste you don't like.
32 servings per container
100 calories per serving
25g carbohydrates per serving
40mg sodium per serving
It isn't bad, but not a huge fan
Familiarity:

I've put it through the wringer
It is a little chalky to me and the taste is a little bland. Overall, the price reflects the product well, but probably won't purchase it again.
They are still making this?
Familiarity:

I've used it several times
I am surprised they still make this, i tired it a few years ago and made it past one bottle. I decided against my better judgement to try a sample pack again and it was again terrible. Weird heavy taste, did not sit well, and was not appealing. I think hammer has some other good products, this is not one of them.
Good stuff
Familiarity:

I've put it through the wringer
A big upgrade to your grocery store sports drinks (which I find way too sweet). The taste is light, but can be a bit on the chalky side if you mix too strong. I've found that a pinch of salt really smooths things out. And, hey, you probably need the sodium anyway. HEED has always done the trick for me on long runs, hikes, even soccer tournaments in the Texas heat.
Is this free of dairy products?
Is this free of dairy products?
It sure is! You can read the nutrition facts and ingredients in the details list.
blah taste
Familiarity:

I've used it several times
this is a good product as far as the ingredients make up but the taste is really bad. I wouldn't buy it again just because of that.
Orange
Gender:

Male

Familiarity:

I've put it through the wringer
What is there to say? This is currently my favorite energy drink; I use it during every ride. Highly recommended and I got it on sale.
I found this stuff undrinkable with a weird chemical taste to it. Before you buy a huge container I would get a sample and try it. Everyone has different tastes but I found this stuff intolerable.
Like a bottle of barbed wire . . .
I have a pretty tough stomach when it comes to sports drink and have tried almost everything on the market. I love GUs for short distances and Perpetuem for longer runs and ultras. While I don't find the taste awful, it has upset my stomach EVERY time I have tried it. Xylitol (a sugar alcohol) with a well established history of causing GI upset and GAS is an interesting choice in sweeteners. Alas, it all comes down to what works well for YOU! Give a couple sample size packs a try, you may love or hate it. Whatevahs!
There is nothing worse than being on a long ride and all you have is kool-aid (read gatorade) or any other super sugary "sports" drink in your bottle. This stuff is very light and works great. It'll keep you going without making you sick to your stomach like the punch style beverages. I like the lime flavor best.
Hammer makes great products! No sugars like some electrolyte drinks have. I also get sick of sweet tasting stuff while I ride so the unflavored is perfect for giving me what I need without making me feel like I need to brush my teeth.
I've downed more gallons of this stuff than I can count. In races, half my calories come from it. It can be mixed extra strong or extra week. I've even mixed it 1/2 and 1/2 with nuun. I couldn't run without it.
Not sugary, but definitely sweet.
HEED is a pure concoction of electrolytes and long chain aminos, but it is sweetened by stevia, which is in fact, quite sweet and has a very unique taste. Note that it is sweet, not sugary. There is a difference. Some people love it, some don't. I don't. I have a super sensitive stomach and dislike sweet drinks while training and racing, so it doesn't work well for me. I have friends who swear by it. I would test it out by buying a small package from a local bike or running shop (since Backcountry doesn't sell single servings) before going for broke and buying a jug. As alternatives for electrolyte replenishment, you may want to also try nuun or Elete.
This stuff has a nice subtle flavor that I can deal with, even on three hour summer runs in Arizona. The science behind the nutrition is solid, and Hammer doesn't put any artificial colors or sweeteners in it!
Hammer Nutrition High Energy Electrolyte Drink
I take a bottle of Hammer Nutrition HEED (High Energy Electrolyte Drink) with me on longer mountain bike rides, and I love it. It tastes a little bit on the chalky side, but I kind of like it. It's not too sweet and overpowering in flavor like lots of other options out there, and is very drinkable. It seems to do the trick for staying hydrated and energized, and people who know more behind the science of the ingredients have recommended it, as do I!
Everything you want and nothing more.
Here's a counter-opinion to Sawtoothme. I *love* this stuff. Most sports drinks are too sweet (too much sucrose and high-fructose corn syrup), too flavored, and (particularly annoying to me) too acidic. Once upon a time, I went too far in the opposite direction, and bought a tub of pure maltodextrin. It had no flavor at all, and was almost unpalatable. This stuff is perfect. It contains pretty much just long(ish) chain carbohydrates and electrolytes. The flavoring is very slight, and the sweeteners almost unnoticeable. Just enough to make you enjoy swigging it. I've used it in races time and time again, and I swear by the stuff. In longer races (>2 hours) I'll typically use something with some protein in it. I like Hammer Perpetuem. The nice thing with the mild flavoring is that you can blend your own magic potion without creating something undrinkable.
, ☃bcs_badge_alumni_label☃
Gotta be honest
Not a fan - I filled up a bottle with this stuff at a 50K in WV last summer and could not down the stuff. I heard some people who love it (and I love the hammer gels) but I didn't like this at all!