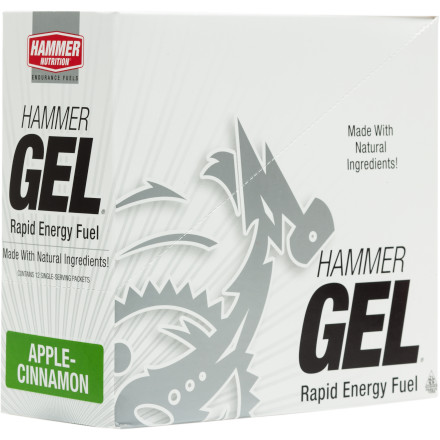 Colors

Detail Images
Description
Don't break your teeth on frozen energy bars—eat Hammer Nutrition's Complex Carbohydrate Energy Gel.
Hammer Nutrition made the Complex Carbohydrate Energy Gel with natural ingredients and real fruit, so you won't have those unhealthy insulin-spike sugar highs. Instead, you get prolonged energy levels from the complex carbohydrates and amino acids in this Hammer Gel. The syrup-like consistency makes it easy to drink straight or add to your water. Unlike nutrition bars that freeze on your winter treks or melt during hot adventure races, the Complex Carbohydrate Gel is easy to eat when you're on the go in any temperature.

keep it with you on every ride or hike
Familiarity:

I've put it through the wringer
Im a peanut putter addict, so, I think you already know where this is going. My better half actually mixes the peanut butter and banana flavors in her little Hammer flask.



Works great, is a great fuel source for extended activity... yada yada.



My gripe - why in the heck did they stop selling this in the large bottles???? It cut down on waste, could help cut down on trail litter, and was a more cost effective way of ordering this stuff.
Bonk Breaker.
Familiarity:

I've put it through the wringer
This Hammer Gel has saved my ass so many times on road rides where all the roadies decide to climb hills for fun. Funny how so many can't descend down a hill for shit. It has also been my go to fuel when wanting to ride all day at Whistler and you start to feel the Bonk at the end of the day. Nothing is more fun than doing lap after lap on wide open trails right before the park closes.



I also use it when hiking. I don't like taking the shot straight either. I haven't found a gel yet that makes me want to stick that crap in my mouth. I add it to a water bottle or sometimes I add it to my hydration bladder.



I think the Hammer Gels are the best ones to get to stop the Bonk and get the quick absorption you want when you are on the verge of the dreaded Bonk.
Better taste & consistency
Familiarity:

I've put it through the wringer
Like other reviews here, I started with Gu's and Clif's gels. I was turned off by Gu's use of fructose, Clif's funky aftertaste in any gels with caffeine in them, and the thicker consistency of both. I love the more syrup-y consistency of the Hammer gels, the lack of nasty aftertaste, and the flavors taste more like real fruit. I've tried the apple cinnamon, huckleberry, raspberry, and vanilla, and loved all but the vanilla. The apple cinnamon tastes like pie. :) The vanilla is OK - sort of like cake frosting, but I wouldn't buy a whole box of it, unless you really love frosting.
Just what I was looking for..
Familiarity:

I've put it through the wringer
For awhile, I used energy blocks (Clif Shot Bloks or Pro-Bar chews) but on my longer runs and when I was really pushing hard, I didn't really want to sit there and chew 5 or 6 energy blocks. So I tried using Gu Gels and then Clif Shot Gels. The energy from them was great, but they both gave me stomach cramps and I found them to be a little thick for my liking. So I started reading up on Hammer Gels and had a lot of hope based on others reviews. I took a risk and set out on a 20 mile run with the Hammer Gels and I was stoked with the results.



The consistency of the gel seems easier to take, no stomach cramps, and great energy provided. I'm pretty hooked on the Tropical flavor right now which has a bit of caffeine. So try them out and try the flavors. Out of the brands I've used, this has been the best for those long, grueling runs.
Perfect Match for a Peanut Butter Fiend
Familiarity:

I've used it several times
I've tried all the Hammer Gel flavors, with a few go-to's in the bunch including Espresso and Vanilla. As a guy who love his peanut butter (PB&J's my favorite "meal") I was thrilled when Hammer released their new PB Gel. I was a bit skeptical though, thinking peanut butter stuck on the roof of your mouth mid ride was a recipe for disaster. Obviously it's not just straight peanut butter, but you get all the familiar peanut butter flavor in an easy to get down gel that's not goopy nor pasty. The small amount fat and protein in the gel help my body and brain calm keep going on rides longer than 4 hours. This particular gel has found it's way into my must have list for long rides.
Gels that are tasty and not pasty!
Familiarity:

I've put it through the wringer
OK - so I've been a LOYAL Hammer Nutrition supporter for years. After my first half mary about 10 years ago, and then lagging performance after - I thought I needed to review my fuel strategy. I don't recall where I stumbled on Hammer, but their products are first rate! I've been using them for over 10+ years.



I've found their gels to not be pasty like Gu, and the flavors are very tasty.



While it may contain Maltodextrin, I believe after reading up on the ups/downs of it that it's included because of the ease of absorption into the body and easy energy. The intent is not to make a constant meal out of gel, but to get it into your body for energy and burn. (I found this to be a nice article: http://fitnessfortravel.com/is-maltodextrin-bad-for-you/)



I love the huckleberry and vanilla flavors...
Crappy Ingredients
Familiarity:

I've used it several times
Used to use these gels until I started reading the ingredients on the back of the package - no thanks! Maltodextrin! And especially after I found out Hammer Gels contain GMOs I stopped using their products altogether. No thanks!
Surprisingly Tasty
Familiarity:

I've put it through the wringer
Endurance athletes know the horrors of throwing down gooey, sugary and disgusting gel after gel during the moments we need energy most. Gone are those days thanks to Hammer Nutrition Complex Carb Gels. Hammer is great for using only complex carbs in their products, which helps your body produce sustainable long term energy, without the jittery sky rocket, then crash cycle from simple sugars in other "endurance" products.



My favorite flavors are apple cinnamon, vanilla, espresso and tropical. All are super good and I've never gotten sick of them like other products.


Perfect for a boost
Familiarity:

I've put it through the wringer
I love using these during half and full marathons. They are quick and easy and (overall) tasty! I always notice an instant boost in energy and they keep me going the entire race. Tropical isn't my favorite flavor, for what that's worth.
Fruit flavors are the best
Normally I always choose chocolate for everything, but these berry flavored gels are better. The raspberry and huckleberry taste surprisingly natural; almost like fresh, yummy jam. The ingredients list real berries, and it really makes a difference. Easy to digest.
I really hate to bash a product, but this is one I just don't like. Maybe its me, because this product has nothing but positive reviews on BC, but I think its just gross. I have tried several flavors from different retail sources and didn't like any of them. The vanilla and espresso were awful, tasted like some kind of chemical to me. I tried huckleberry last summer. It had like grainy chunks in it. I had to chew it! The energy it provides is fine, on par with other brands, but the flavor and texture are just not for me.
My favorite flavor
Gender:

Male

Familiarity:

I've put it through the wringer
Taste like chocolate pudding pack... Really didn't think I would like it. I recieved them as a gift at a race when I forgot mine and was very happy I did.
currently my go-to energy gels
Gender:

Male

Familiarity:

I've put it through the wringer
What is there to say? These are currently my go-to energy gels; I use them before every ride. Highly recommended and I got them on sale. The raspberry is my favorite flavor right now.
these are the absolute best!!!
I used Gu for a LONG time, but when I went to Hammer, I have never been the same. No more angry refueling on the trail. YUM YUM banana rocks!
This is the ONLY gel I've been able to find that tastes okay and doesn't contain a bunch of crappy sugar. Hammer gels have kept me from bonking on countless occasions. My favorite fuel - I really won't even consider doing any kind of lengthy ride without these gels. I love the Vanilla and can stomach the espresso if I need the extra kick of caffeine. GREAT energy.
there are many companies making gels - there are just two doing it right. hammer gels have long chained maltodextrin as their sweetener. it's man manipulated and slightly processed but very minimally and it provides a superior source of long lasting energy. clif takes it a healthy step even further by using no man manipulated or processed sugars by using brown rice syrup as it's sweetener. both provide great energy. both have great flavors - try 'em all and figure out which one works for you.
Hammer is my fuel of choice but I can't stomach countless gels over the course of long hours. My endurance fuel of choice is to mix a thick cake-battery paste of Hammer Perpetuem with Hammer Gel and a little water. I go for plain or vanilla on the gel because I can't handle too-sweet flavors on long, long days. (If you do go for the mix option, try using a food processor to get a nice smooth consistency.) Now Backcountry needs to start selling Perpetuem.
I really like Hammer Nutrition products. They've got what you need, and not much more. They don't go too nuts on the flavoring, which is great. The Complex Carbohydrate Energy Gel really does the trick when you're bonking. These gels taste good, and get you're energy up quickly. My personal favorite flavors are Espresso and Apple Cinnamon, which tastes a lot like a delicious gooey apple pie!
OK taste and I really felt the energy help me keep my legs moving.
It's delicious and makes my legs move faster!