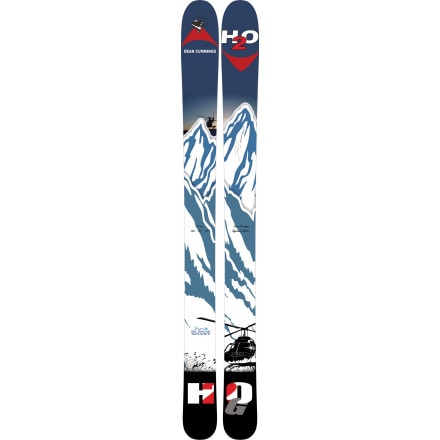 Description
A fat ski that looks like a weightlifter but performs like a ballet dancer.
Former World Extreme Skiing champion Dean Cummings has a signature ski, and it's the H2O Outdoor Gear Karen'cito'. Despite a shape that more resembles heavyweight boxers than prima ballerinas, this ski is a delightful ride of precise control, crud-busting power, and heavenly floatation through powdery snow. As the beefiest ski in the ATG (access the goods) line, the Karen'cito' takes advantage of Lay Down technology and a wood core to give you effortless turning in all snow situations without sacrificing an ounce of float for deep-powder hedonism.
Three different woods in the core give you a lightweight, responsive ski without concussion-causing chatter. The center of the core consists of ash, the same wood most professional baseball bats are made from. Extremely hard and absorbent, an ash core offers strength, stiffness, and improved binding screw retention. Aspen and basswood are also used in the core to enhance strength and stability without adding weight. A heat-fused tapered sidewall protects the core, and the 4001 sintered base does a 360 around the ski for additional strength and durability.
H2O Outdoor Gear's brand of hybrid-rocker technology, Lay Down, is named as such due to its effect on the ski. The traditional camber underfoot and reverse camber and sidecut in the tip and tail help the ski 'lay down' in all types of snow and at all speeds. As such, you can maintain control and keep all of your fillings in your head whether you're blasting through fresh powder or coasting on corduroy.
Perhaps more impressive is how the Karen'cito' carves prettier than a Thanksgiving turkey despite being 133mm underfoot. The full-length edge coupled with a tight turning radius, 20m for the 174cm ski, gives the feeling of driving a European sports car rather than an oversized truck. Charge down the Chugach after an epic dump or carve up Killington on the Karen'cito' for powder-riding and groomer-cruising fun.
Traditional camber underfoot, reverse camber and sidecut in tip and tail
Sandwich construction
Wood core (ash, aspen, basswood)
133mm underfoot
Heat-fused, tapered sidewall
Tuned to World Cup standards
Included: ceramic stone grind, ceramic disk edge polish/bevel