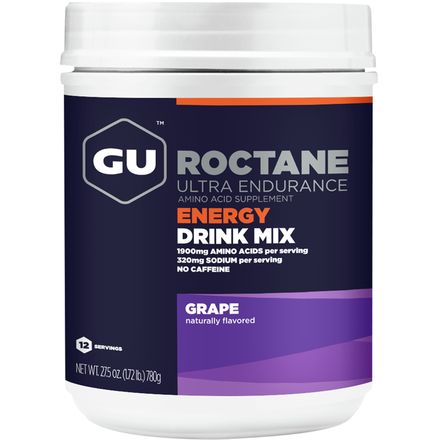 Colors

Detail Images
Whether you're training for a marathon, touring cross country on your bike, or about to take on an intense workout, reach for the GU Roctane Energy Drink as a way to stay on top of your game. This twelve-serving canister mixes easily and tastes surprisingly light and refreshing while you're pushing your limits.
Ideal for those who need calories during long or intense workouts

All three flavors mix easily and have a surprisingly light, refreshing taste

Exact Roctane intake depends on the intensity of your pursuit and your body weight and fitness level: the fitter your are and the more you are used to consuming carbs during exercise the more Roctane you can consume each hour, up to 340 calories every 60 minutes

Caffeine (in all except grape flavor) increases mental acuity, increases performance, and decreases perceived effort, all of which tend to go south during prolonged activity

Taurine combats heart and skeletal muscle fatigue

Beta-Alanine and Histidine help buffer acid caused by going over lactate threshold

Amino acids help prevent muscle damage and aid with muscle recovery

Share your thoughts
What do you think of the
GU Roctane Energy Drink - 12 Serving Canister
? Share a...
I notice a difference
Member since
Posted on
Gender: Male
Familiarity: I've put it through the wringer
I use this for mountain biking, and it works better than any other drink I've used, especially when I'm doing longer rides and tougher, sustained climbs. I pair it with the GU Roctane gels as my fuel of choice.

Expensive, but worth every penny. Compared to what I spend on gear and components, and even gas, it's a completely reasonable expense.

Taste is fine, I guess. Who cares? it's not a meal, it's an energy drink. I prefer the caffeinated models (Lemon-Lime & Tropical Punch), but I rotate them out so I have the option of going decaf (Grape), and so I don't get burned out any one flavor.

The Tropical Punch and the Grape are both better than the Lemon-Lime in my opinion. It has a sort of artificial taste to it that's not the best, but again, I need variety sometimes. It helps if it's cold, so I run it in a Camelbak Podium Chill bottle preloaded with ice, even in the winter (I'm in So Cal, so hey...). The ice melts during the ride and keeps things pretty cold. I just shake it before taking a drink, and it keeps it well mixed and chilled.