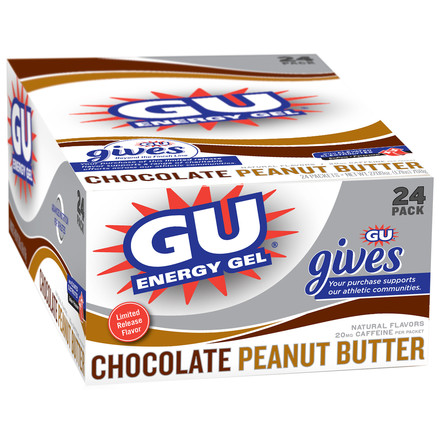 Detail Images

Community Images
The 100 calories of complex carbohydrates found in all 24 pouches of the Energy Gel 24 Pack are only part of the reason why Gu is such a ubiquitous sight in the peloton and on recreational rides. Gu's Energy Gel also packs amino acids, antioxidants, and muscle buffers to help begin the recovery process even while you're refueling mid-event. A splash of caffeine helps kick your engine into fat-burning mode, and the packets are easy to tear and eat — no chewing, no two-handed fumbling, and no risk of choking on solid food during hard efforts at an unrelenting pace.
Complex carbohydrates for virtually instantaneous energy
Includes amino acids and other recovery aids
Easy to ingest during an event or race
Share your thoughts
What do you think of the
GU
Energy Gel - 24 Pack
? Share a...
Buy it
Familiarity:

I've put it through the wringer
They tast good
salted caramel is perfect
Familiarity:

I've used it several times
of course, it works like all gu gels work. but the taste? best tasting energy product out there. i'd put it on ice cream if, you know, that was allowed. i thought vanilla bean was the greatest, but the salted caramel rules all gel products. i do wish gu would put a little tether on the tops, though - too easy to tear the top completely off while riding which makes it tougher to hold onto.
Good Gels
Familiarity:

I've used it several times
The watermelon flavor is fantastic! These work as intended and add energy to my rides and hikes.
Fantastic
Familiarity:

I've put it through the wringer
I use the blackberry every couple of hours mixed in with the other flavors, or when needed for the extra boost of caffeine. They do the trick. Might be to sweet to use for an entire long run though.
Love Rootbeer
Familiarity:

I've put it through the wringer
Best flavor of all time. I just wish it had caffeine. So easy to digest.
Best Tasting Ever
Familiarity:

I've put it through the wringer
This is the best tasting gu pack I have ever had, not to mention it works as advertised.
Yes they were at a good price, but before I bought the GU I called and was assured that it was not about to expire. It cost me time and money to return a product that I would never have bought if I had known. NOT IMPRESSED.
There's a case of these in the trunk of my car for a reason. Pre, during, and post workout these Gu packets perform exactly as advertised. They provide you with some powerful amino acids to help you keep going longer. They come in a bunch of great flavors. No complaints, just make sure to drink a lot of water with these.
Powering the runs
Familiarity:

I've put it through the wringer
I've used many a gel (Clif, Hammer, Honey Stinger, and GU) through the miles of training and these are certainly what works best for me. No GI issues, great energy, tasty flavors, and a great consistency even when it gets cold.

Just a perfect shot of energy to power all of my runs...
PB/Chocolate & Strawberry/Bananers
Familiarity:

I've used it several times
PB/Chocoloate: I can't really taste the peanut butter, but I absolutely love the addition of the caffeine here! I have taken it before a couple climbs and was so energized I ended up doing some interval training on the hill instead of just surviving up it.

Strawberry/Bananers: Tastes like absolute candy. A little too much for me, but still gives me the calories I need to keep going and has been a welcome addition to training.
A little thicker than other brands.... Tastes pretty good.
They seem to work.
Familiarity:

I've used it once or twice and have initial impressions
These do seem to boost my energy. Sometimes I wonder if it is a placebo effect though. I can't eat a ton of these because the gel texture is kinda strange to me, but overall I like them.
My favorite gels
Familiarity:

I've put it through the wringer
They do the job, and they taste good. If you're expecting the flavors of a finely aged Gruyere with perfectly ripened figs, you'll be disappointed. If you want to gulp down something that keeps you going without side stitches (if you're prone to them as I am and can't eat solid food on a ride), these are the best. They aren't sickeningly sweet and the candy flavors are above average for this sort of thing. I get the variety pack and like all of the flavors. That "foodie" business has no place in utilitarian calorie consumption for the sake of fast energy absorption.
Great energy boost.
Familiarity:

I've put it through the wringer
These are a great option for energy boost on training runs or a race. I use the plain ones because they don't mess with my stomach.