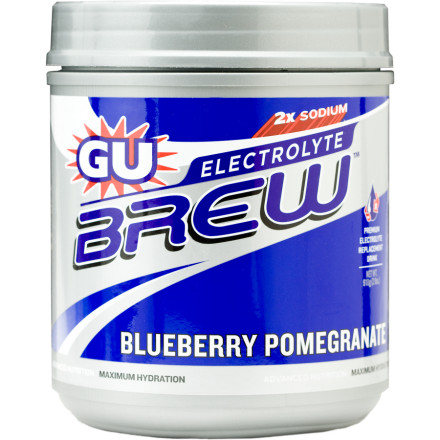 Avoid bonking on the trail or in the gym and bring your body back into balance with the GU Electrolyte Brew Drink. The Electrolyte Brew has a lightly sweet taste, contains complex and simple carbs, and provides vital electrolytes to re-fuel your energy level and get you back to training. Not only that, the Electrolyte is easy on your stomach, and can be consumed before, during, and after any aerobic activity.
Mix GU Electrolyte Brew with warm to room temperature water and top it off with cold water

Lemon Lime is great, even if it gets warm....just don't mix more than suggested or it gets a bit heavy when warm.
Took the GU Electrolyte Brew Drink for the Wasatch Back Relay trip and came back with some positive results. The taste was pretty good if pedestrian for the Orange flavor. It did do a good job of hydrating as the 3rd leg was a bit hot and water bottles of this mix were becoming a bit of a necessity. It does need to be thoroughly mixed though and will need re-mixing if left along for a bit. Overall, not a bad mix if you are willing to work to keep the mix from getting watered down.
Has a great taste, prevents cramping while biking, hydrates very well!
Has a great taste, prevents cramping while biking, hydrates very well!
I use this for cycling classes and to rehydrate after a run. It mixes very easily and does not have an oversweet taste. If a drink is too sweet it tends to upset my stomach when I exercise. Good price too.
It's a pretty good product, I drink it on my bike rides as well as after. Has a good taste. Gotta drink it cold though, not so good warm.