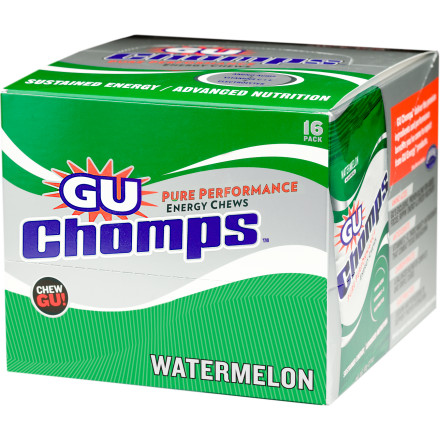 Detail Images
We're used to GU coming as, well, goo, but the company is now serving up this energy-packed food in chewy blocks and calling it GU Chomps Energy Chews. Each package contains two ride-, hike-, or run-powering servings of sodium, potassium, vitamins, and amino acids to fight off the bonk and keep you cruising along, and they fit easily into a pocket so they're always easy to grab. There are plenty of flavors—some with caffeine for an extra boost—and go down smoothly when chased with water, so they encourage you to stay hydrated, too.
16 pack
Two servings per pack
Sodium, potassium, vitamins, and amino acids
Strawberry and Cranberry Apple flavors have caffeine
Taste is decent, packaging could improve
Familiarity:

I've used it several times
I think these taste just fine. The size per piece isn't bad. They give a decent boost and didn't make me sick at all. Definitely drink water while eating. That being said, I'd take the clif shot blocks over these every time because I like how easy they are to get out of the package. The chomps aren't bad though still if you cut a hole just bigger than the pieces in the packaging BEFORE your ride.
Solid Product-Black Cherry
Familiarity:

I've used it several times
I was excited to try GU's energy chews bc I am a big fan of their gels and have been using them for years.

I recognize the difficulty in reviewing an "energy" product. Obviously, everyone's tastes differ. In addition, you add the many additional factors (i.e.: how an individual feels day-to-day on the bike, what works, what doesn't etc) and it makes for a heavy emphasis on subjectivity. Here is my take: I have tried the Black Cherry variety and can report that they are tasty and keep me pedaling for another approx 1.5 hours (they package advertises that a pack is good for 1.5-2hrs of sustained effort)...beyond that, I cannot tell you much more...the Chomps did not make me fitter or faster...not that I know of.
I can tell you that I prefer the Honey Stinger Chews for two reasons: better taste and the Stinger do not stick to your teeth at all. The Black Cherry Chomps have a slight mediciney taste to them (only slight) and slightly stick to your teeth. On the other hand, these Chomps do not stick to your teeth anywhere near as bad as Clif Bloks!! Man, my dentist couldn't extract residual Bloks from my teeth!!
Ironically, I do not like Honey Stinger's Gels at all. Go figure.
Solid product, check it out for yourself!

A nice break from gels
Familiarity:

I've put it through the wringer
Personally, I like having these Gu Chomps around for hiking and biking longer distances. I have Gu gel packs too, and as easy as they are to get down, I like having something to chew on that tastes kind of like a gummy bear or gumdrop. Yes, they will probably stick to your teeth, but sometimes it's a nice distraction, and I like feeling as though I'm actually eating something rather than sucking down a slimy version of taffy through a plastic package. But, maybe that's just me.



My favorite flavors are the blueberry/pomegranate and the orange, though none seem to be horribly offensive that I've tried.



On the bike, I keep these (sealed) in my saddlebag and haven't had any issues with quality, even if they sit in a hot or cold environment for several days. If it's too cold, it does change the consistency to a hardened version.



If used as directed, it seems to keep energy levels up and sustain me through several hours of riding, so I continue to buy them.
These are now my favorite!
Familiarity:

I've put it through the wringer
I will never go back to gels! I love all the flavors. They really keep the energy level up.
Peach Tea!
Familiarity:

I've used it several times
I buy these in the Peach Tea flavor. Gu chomps are harder to chew than similar products out there (Clif Shot Bloks, Honeystingers), and I dislike that about them, but the peach tea flavor is pretty amazing. Orange is a decent flavor, too, not too sweet. They get especially hard to chew in the cold.
Great taste!
Familiarity:

I've put it through the wringer
I really like these a lot! My only issue is that they are a bit pricey if you eat them regularly on your rides. But I'm not going to knock them down a star for that--all of these specialized nutrition things are expensive.



Orange is my fav!
Blueberry Pomegranate
Familiarity:

I've used it several times
The best flavor to get is blueberry pomegranate! Perfect while on the trail or to have on the go. Always in my pack.
So tasty. So tasty
Familiarity:

I've put it through the wringer
These have been great I will never go back to gels. Great calories of sustained energy. I tried the Watermelon it had a nice bitter element to go along with the sweetness.
These are very good on the go and they provide a solid amount of energy when you are tired and dont have much time
A good alternative to Gels. Chomps taste really good. Not too sweet and candy-like. Can be a little tough to chew when really cold but they don't seem to freeze. I wish the package had a little better opening to rip open. I like the Cliff Blok package but prefer GU taste.
I went on a mission trip to a place with no clean drinking water. On the last day of our trip, i ended up with no water bottles and got severely dehydrated. I was passing out and really not doing well. Another woman on the trip came to my aid and slipped me a few of the orange Gu Chomps and they really saved me! The quick burst of electrolytes gave me enough energy to make it to some water and get out of the heat. Those Gu Chomps are incredible!
Like Gummy Bears, but with nutritional value
Energy chews like these have pretty much replaced bars for me. They taste good and are easy to snack on as you go. One downside is that they can leave you feeling full temporarily - a feeling you don't get with energy gels.
I love these chomps, they taste good and give me more energy when I need it. I use them mainly for long mountain bike rides. Orange and Peach Tea are my favorites
These will provide energy for about as long as they stick in your teeth.... i.e. for hours. Pretty hard to eat, but efective none the less. I prefer the gels though.
Good energy but packaging could use some work
The Chomps themselves work well from a sports nutrition perspective, but unfortunately the packaging doesn't make these easy to eat.

The sachet isn't as easy to use as the Clif ShotBloks (which let you squeeze out a Blok). Your fingers tend to get sticky trying to pick out a GU Chomp. Not great on the MTB (where full finger gloves and sticky Chomps don't mix), but you could live with them on the road if you're prepared for sticky fingers!
I bought these for my husband when he ran the Las Vegas Ragnar and he loved them. They are easy to chew while running and provide great energy. He loved the watermelon flavor.
Great for hikes, not for runs
Bought a variety Gu box and finally tried the chomps. Overall, great for hikes.
pros
- replenishes electrolytes and provides sugar during hikes
- each bag contains several pieces, so it's convenient if you want to share

cons
- too sweet and sticky on your fingers and mouth. be prepared to swish water in your mouth to remove from your teeth and a bit for your fingers too.
- bit of a hassle for distance running because they're sticky (getting out of the bag, get between teeth, and remain on fingers) - i prefer gu gels for runs instead

Chomps do what they're suppose to do and provide energy, but may be an inconvenience because of the chew.
I'm not super athletic, so I can't speak for this thing in marathons. But I did take them hiking w/ me. They work like a charm. I can be dead tired and not able to take another step, pop one or two, chew, add water, and off I go again. My personal favorite is the blueberry pomegranate. Also I've found that if I open a pack and come back to it tomorrow (or even a few days after), it's still good, just the outside dries slightly, making it less chewy.
Great for on the go fueling
These can be a tad too chewy and stick in your teeth pretty good, but none of the alternatives are great so these get used in my house quite a bit. I even found shoving a bunch in my cheek for long hikes works great to slowly warm and chew them. I've only tried the blueberry-pomegranate, which was pretty good, but I can't speak for the rest of the flavors.