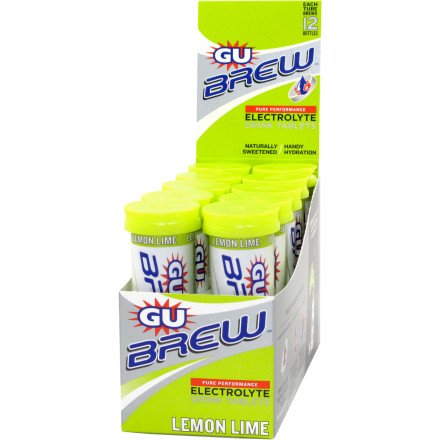 Detail Images

Community Images
Sodium and potassium are critical to help you retain the fluids you need to function properly; be sure to enrich your water with the GU Brew Electrolyte Tablets for effective hydration. Each tube comes packed with twelve tablets that you can easily carry with you to drop into your water before, during, and after your workouts and outdoor adventures. Sugar-free and with a light, natural taste, the GU Brew tablets won't weigh you down with anything but the salts that you need.
I've had to start hiding them
Familiarity:

I've put it through the wringer
I've actually had to start hiding these from my roomates as they seem to always be empty. They are just a great way to get that extra boost of hydration you need after a day of being outside. The flavors are not overwhelmingly strong or sweet and I love the slight fizzyness it adds to your water. Grapefruit flavor is my favorite.
Great Tablets
Familiarity:

I've put it through the wringer
These are my favorite electrolyte tab/powder. They are super easy, taste good, aren't overly flavored, and make me want to drink more water!
Like the flavor; dislike the fizz
I tried this in Peach Tea because I really like the flavor, but dislike how chewy the Chomps are. Well, the flavor is still good, but I actually don't like the carbonation/fizziness/effervescence/what have you. I like the tube they come in. I dislike that the flavor was difficult to get out of my Camelbak podium bottle. It took a good 1-2 weeks including a good scrub down and several uses with plain water before the peach tea flavor disappeared completely from my bottle.
I ordered the peach tea flavour and found it to be pleasant. As a result I drank more water than what I used to.
Not meant to be a carbohydrate replacement. These are just to replenish electrolytes. Not ideal in every circumstance but when used properly, excellent. On a long ski day when I cary plenty of carb calories as solid food, a waterbottle with GU brew is perfect for keeping electrolytes up and preventing cramps. The small canister is good for bringing a couple tabs along on a big push. Give it a bit of time to dissolve.
These are alright but they take a while to dissolve and the fizzing is a little annoying when drinking. They only provide electrolytes so that is a minus. Gatorade gives you carbohydrates as well so you are helping to replenish your energy stores. These will do the job but there are other options that are better in my opinion.
Not too sweet and a nice replenishing mix. I've only tried orange, but I'll definitely be buying it again.
This is a great way to get back what you've sweat out during the day. I like the very mild flavor and they are small and portable. Great for expeditions and after workout beverages.