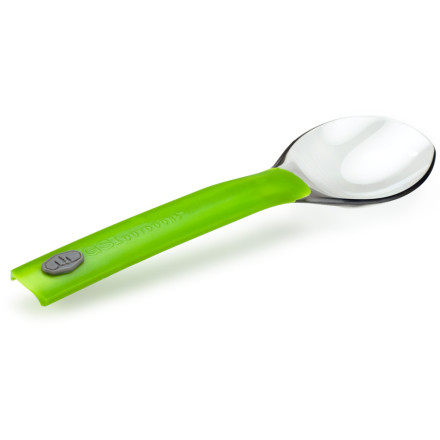 Whether you're stirring your steamy pasta, or packing up for another day on the move, the GSI Outdoor Ultralight Telescoping Spoon is a fast-and-light necessity. Weighing in at a miniscule 1/50th of a pound and collapsing from 6 to 3.8in, this durable utensil's size and weight go virtually unnoticed in your backpack. GSI designed this ultra-light spoon to coordinate with the rest of your nForm Ultralight or Gourmet cooking set—because color coordination is so underrated.
What do you think about this product?
Have questions about this product?
Doesn't feel very sturdy. Can be difficult to clean. Doesn't work very well as a fork or a spoon. Will do the job in a pinch. Is light weight and doesn't take up much space but neither do a regular fork and spoon. Save the money and put it towards a nicer pair.
Works Fine - Prefer Titanium
This spoon does the job. The best thing is that it folds up extra small. I much prefer a long titanium spoon (best single utensil for the outdoors) or a titanium spork. Their durability against breakage and melting is nice. This is always much more difficult to clean if gunked up.

I received one as part of a GSI cooking set and will hang on to it. I'm not sure I would recommend purchasing it on its own, though.
Decent, nothing to write home bout
I purchased the foon, but recieved the spoon, so I can't comment on the fork portion of this piece of gear. This definitely is not a utensil that you want to dig into really solid food and if you're looking into eating some icecream then I'd let it sit and soften up a good bit. Im not sure where the complaints on the retracting handle are coming from because mine works fine. Handle the retraction with some sense because the plastic could be able to cut you. Ive read reviews stating they've cut themselves on the handle, but as I said...use some sense while handling and you'll operate this cut free. I will say that I love the small size of this utensil and I particularly pack non cooked foods for the back country to save time, space, weight, and labor. However I do carry the staple of outdoor journeys such as mac n cheese and ramens, oatmeal and grits. For such things which are pretty popular trail foods this utensil works great. I can store it neatly inside my GSI Soloist kit which is a big plus for me. It stays safe in there with no worries of it getting banged up or broken. For my use its actually perfect, although it will not replace my Light My Fire Spork for when I catch some trout or drag a good steak into the back country. I'd recommend it for the uses I say its good for.