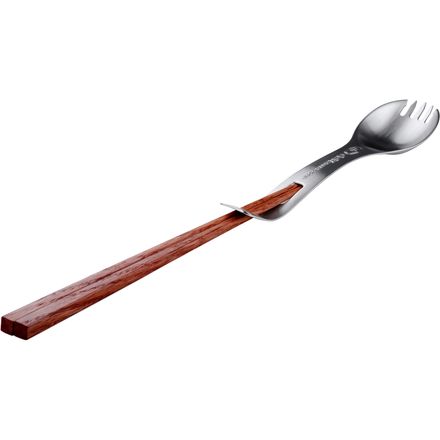 Community Images
Description
A foon with extra kick.
Cover all the bases when it comes to getting food from receptacle to mouth with the GSI Outdoors Titanium Kung Foon. This 3-in-1 combo includes an ultralight titanium foon (a.k.a spork) and a set of rosewood chopsticks. 'Where's the third part?' you ask. That would be when you combine the two to create a foon with an extra-long handle, ideal for scraping the last bit of food out of a narrow pot or rehydrated meal pouch.
Barbed foon tines won't lose a grip on your next mouthful
Deep foon bowl preserves spoon functionality for soups or cereals
Includes tin for storage or transportation
Solves all my backcountry food issues
Familiarity:

I've put it through the wringer
At first, I laughed. Then while chuckling, realized I really could eat anything with this combo. It seems ridiculous, and totally is, but does its job splendidly. The chopsticks are not slick, and have a hearty grip on the spork so it won't slide off with use. But on the other side of the coin, its also not a battle to get the combo together or apart. I was pleasantly surprised with the ease of joining and dismantling.

The real reason I bought this was for Mountain House / Backpacker Pantry type of food. I always have to wait until my food is ice cold to avoid burning my knuckles, or put on glove liners eating. With this though, it gets straight to the bottom of the bag with ease, and the tiny little teeth for the spork is just what you need to grab that last chicken and rice hiding in the corner of the pouch.

First thing I did, was get rid of the metal case it comes in, and subbed it out for a fabric sunglasses case. The chopsticks just BARELY poke out of the end, but it keeps them together, also saves weight and space.
Great Gift of Gadget Junkies
Familiarity:

I've used it several times
I agree with the other reviews, this item is a bit ridiculous. Truthfully, I had to try it out because I was wasting some time on our site looking for a new camp kitchen gadget and thinking "I could really use some kind of chopstick/spoon combo".



Serendipitously these popped up.



I was incredibly surprised by the grip the chopsticks have on the spork. I'm in love with Mountain House and Backpacker's Pantry so I really needed a casual camping/hiking utensil that could reach the bottom of the bag. I expected the chopsticks to slide right out when I started stirring, but surprisingly I had to really tug on them to get them to come apart. Maybe this will change over time as the wood wears out.



The bowl of the spork is not as deep as I would like, but it is deep enough to hold a heaping helping of a Mountain House meal. Not the best soup spoon though. Four stars for that.



This will definitely be my go to camp kitchen utensil, regardless.


Makes a great gift!
Familiarity:

I've used it several times
This is a neat spork/chopstick combination and the way they fit together is really cool. It comes in a really nice tin that makes this GREAT as a gift. However, it is a little heavy for lightweight backpacking. The spork weighs in at 0.8 ounces and the chopsticks at 0.5 for a total of 1.3 ounces. (This doesn't include the tin case). Plus, the chopsticks can sometimes move around a little when set inside the spork so, while ingenious, it is not perfect.
Multifunction Device
Gender:

Male

Familiarity:

I've used it several times
I'm sure that this looks like an unreasonable gadget to some people but I do like the multifunction aspect of having a longer spoon and a set of chopsticks in one device. I share the concern of others that the chopsticks might break but I have thought of removing the foam pad in the box and packing other small items that I take along there as well which would adequately protect them. Even if the chopsticks break they appear to be a standard size that could be replaced by store bought ones.
My go to camping utensil
Familiarity:

I've used it several times
This is a multi-functional, lightweight utensil that has good length and reach for comfortably stirring boiling pots and reaching deep into dehydrated dinner packages. I love using the sticks alone for tortellini and noodles. Stores nicely because the chopsticks and spoon pull apart. My only worry would be that the chopsticks could potentially break under too much heavy weight in a stuffed backpack.
Kung Foon, Great for Dehydrated Foods
Just grabbed a couple of these GSI Outdoors Titanium Kung Foons, half out of curiosity and half out of the need for a camping spork. Price wasn't all that much higher than the standard fork options, and the chopstick extension feels like a pretty solid idea for dehydrated food packs. Amazing overall quality with the spoon, chopsticks, and even the packaging.

Taking these down to Havasu Falls, AZ this coming week, hoping to edit this after some actual use.

Left off the 5th star due to the simple fact that any person not really needing/wanting a spork would have zero use for the chopsticks. Knife + stick = free chopsticks.