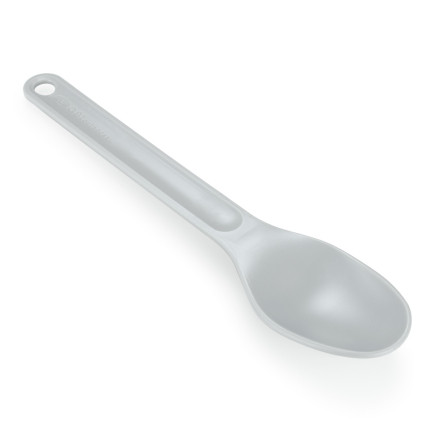 Don't scoop your camp dinner with a cheap plastic spoon that will fill up the landfill. Use the GSI Outdoor Spoon. Made of Acetal, this durable reusable spoon is made by the camp masters, so you know it'll be in you family for a while.
Share your thoughts
What do you think of the
GSI Outdoors
Spoon
? Share a...
Cheap, light, durable = good
I've had this spoon along with fork and knife for over 3 years now. This is my primary utensil set. price can't be beat and they are lightweight. I have found them to be plenty durable.

Positive = these are long enough to reach the bottom of freeze dried meal bags.

Negative = If you let your food dry on, these are not as easy to clean as metal/titanium utensils. This is not a big deal for me. Delayed cleaning being the only negative, the price makes these a clear winner for me.
Sturdy, a friend you can abuse
I like this spoon--enough to take it on my AT hike last year. It was great. Takes a beating, cleans up easily with a lick or a rinse, and packs easily. As for being shallow, how many people really eat soup when they're hiking? You'd starve to death eatin' soup on the AT! It's great for everything else that you eat or mix on the trail.
As others said kinda shallow but will work for dehydrated meals and such
Not even worth my 58 cents
Not even worth my 58 cents. I dont even know if its a spoon more like a flat spatula and its weak.
I have a soupspoon size spoon of like material from GSI. I went to buy a few more but only found these ones. I purchased a fork and spoon not expecting to like the spoon and I was right. As was noted, it is better than a throw away but I really want the soup spoon size as opposed to the teaspoon size.
Anyone know where I can get the larger spoon?

Thanks, Buck

cmabuck@hotmail.com
eating at the kids table?
This spoon has the feel of a kid spoon to me. Not that it is small, but the way kid spoons have that extra coating of plastic and are shallow (as other reviewers noted). On the plus side it nests nicely with the matching fork, but on the down side, it's not the most comfortable to eat with. Better than a throw-away plastic spoon, and gets the job done, but not the first spoon I would reach for. It looks like a normal shape in the picture, but the angle of the photo is a little deceiving I think.
Probably perfect for jello but otherwise the spoon is rather shallow and can't scoop up much soup. Its also a bit too long to fit in my pot.