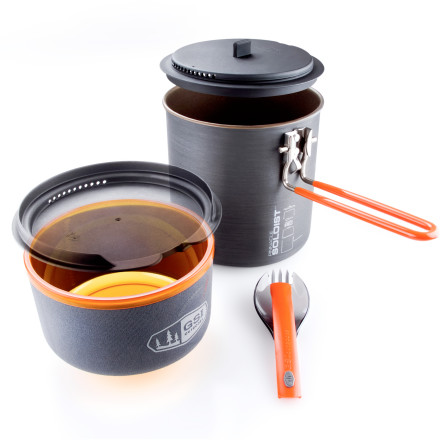 Videos

Community Images
Ultra-light solo backpacking trips require more than just granola and jerky. Luckily, the lightweight, super-compact GSI Outdoors Pinnacle Soloist Cookset includes everything you need to cook and eat tasty carbs and calories while off the grid. Once you unpack the nForm system, which weights just 10.9oz, you'll have a tough cooking pot, a lid-strainer, a foon, stove bag (stove sold separately), a mug-bowl, and a welded stuff sack that doubles as a sink for washing.
1.1L Hard anodized aluminum pot features a three-layer coating, including Teflon with Radiance technology to speed up boiling and cooking times
Pot features a locking, coated pot holder that also locks down the system when packed
Pinnacle cookware coatings also provide incredible abrasion resistance and a great non-stick surface to make clean-up easy
Mug-bowl combination works for eating and drinking and is made with lightweight, durable Infinity BPA-free polypropylene, which keeps it leach-free and resilient to heat, odors, and heavy pressure inside your pack
Nylon lid features a Sip-It opening and a strainer for versatility, and it's crush-proof, heat-resistant, and won't warp its shape in packs or in storage
Heat-resistant foon, formally know as a spork, unfolds to provide cooking and eating convenience
Stove bag stores your ultra-light backpacking stove while the pot provides plenty of room for a 220g fuel canister (both sold separately)
Included stuff sack protects the whole cookset from damage in your pack but can be used as a sink for washing your dishes without interfering with the wild watershed
5 stars for the pot and lid
Familiarity:

I've put it through the wringer
I've used this pot daily, 6 months a year for 2+ years. It's one of my favorite pieces of gear. The solo size is perfect for one person boiling water for a freeze-dried meal or coffee/tea, or for heating up a can of soup. I also have the Dualist and use it when I have company, but the Soloist is really the perfect size for solo adventuring. The nonstick coating makes cleanup quick and easy.

Obviously ditch the included plastic spork and buy a decent utensil. You may want to ditch the bowl too; the insulating sleeve is pretty ineffective. I keep it around because it keeps all my little kitchen things organized while I'm using the pot to cook.
Unanswered Question
Can you fit a an optimus vega stove and 110 gram fuel canister inside gsi soloist
best single (even double) cookset
Familiarity:

I've put it through the wringer
I use this primarily for myself on backpacking trips, it has been one of the best cooksets owned to date, you can fit the fuel canister and most small stoves into the kit as well. making the whole cook set just the size of the pot, i have even crammed extras in there like oatmeal or something along those lines, every bit of space counts. it has even worked for a buddy and I just using this one kit and an extra spork we were good to go.
Unanswered Question
Is there a coffee press that would work with this pot?
Does anyone know a mug that will fit inside this kits bowl (which fits inside the pot) that is still large enough to accommodate the size of a small fuel canister? Perhaps the Snow peak 450 / 600?
Best Answer
Hey Emerson!



I just ran upstairs and grabbed my Soloist. I'm able to nest a Snow Peak 600 single wall, Snow Peak GigaPower Auto, and 110g fuel canister no problem!



If you have any more questions, or want some pictures of the nesting in action, give me a call or shoot me an e-mail! I'd love to work with ya.



Ben



801-746-7564

brabinowitz@backcountry.com
Back Country really killin' it in service. Thanks Ben!
Grab one if it's back on the rack :)
Familiarity:

I've used it once or twice and have initial impressions
I brought this cookset to Wadi Ghalilah late of January 2015. It worked well. Boiling was never an issue as long as you got time and patience. Pot handle does a good job and the cup protector, both were user friendly (way to go for a morning coffee).



> Just a bit confusing regarding the product photo as displayed above, does it include that transparent lid? When my order came, i didn't see that transparent lid.



> A bit of care when taking your coffee, not because it's hot but some parts in the cup (inner rim) a few sharp portions may give you a lip cut.



> Would be of greater confidence boiling your water if the black lid comes up with the same material as the pot to cover it. :)



> Bottomline, i recommend this product to my friend and a thumbs up was given.




Can this be used to boil water over an open wood camp fire - with the understanding that it wouldn't be directly over a massive flame but rather over a hot bed of coals and/or small flame
Yes it could be used that way, but I would personally be worried that A) the non-stick coating might overheat and melt into my food, and B) my beloved pot would be discolored from the flames.
Goat Worthy!
Familiarity:

I've used it several times
Used my new cook set on a trip to Moab in October.

Boiled enough water for 2 cups of coffee and two cups of oatmeal in one pot. Also cooked some soup in the pot. Clean up was super easy! Great set.
Soup'er buy! Good set
Familiarity:

I've used it several times
Its compact, lightweight, durable and the price is right. Toss the spork thing as it will break but the rest of the combo is premium, it will fit a fuel canister and stove with a little room to spare.
Great cookset for the lone camper.
Gender:

Male

Familiarity:

I've used it several times
So far I've used it mostly for boiling some water by the campfire, but it's great. It has just enough room for my Optimus Crux stove and a 220g fuel canister in it along with the collapsible spork and bowl that come with it. It's light, compact, and stores related items for some compartmentalization. Doesn't seem like much will stick to it so it is easy to clean, and doesn't show any scorch marks from the fire yet. It's a great little backpacking cookset for one.
Light, durable and easy to clean
Familiarity:

I've used it several times
I bought these about a year ago, took them on a 2 week trip in the backcountry. Absolutely love them. They are easy to clean up and also make nice containers to put stuff into when backpacking. The one's I have, have fold-able handles on the side so you don't need potholders. I cooked every night with them and I can't even see a scorch mark or anything on them from the fire. They are also really nice to use with MSR stoves, just the right size.
All in one camp setup
Familiarity:

I've used it several times
This setup is great, I managed to fit my Optimus Vega in the fully packed set which is super convenient, nice and light and worked well over a stove as well as over the camp fire, I cooked some canned soup and beans as well as some rice and the set was stick free and washed up quick and easy, would highly recommend for anyone looking for an all in one lightweight cook setup
GSI Outdoors Pinnacle Soloist Cookset
perfect for a solo hiker. pot is durable and lightweight. the only reason I gave it 4 stars and not 5 is because the spork seems a bit flimsy, but overall I would recommend this product.
All you need (well, a stove, perhaps)
Gender:

Male

Familiarity:

I've put it through the wringer
I have this and the minimalist (because i didn't do my research and missed the dualist). I love this setup as my go-to for backpacking trips. The pot is plenty large enough for one, two for coffee/tea.

The integrated cup is perfect for holding oatmeal, coffee or anything else. The included spoon is the only setback on kit. It's short, so doesn't get down to the really good stuff in the bottom of anything, and it has a tendency to collapse. I substitute a Backcountry titanium spoon the wifey bought me.

I use a penny stove. Currently, the stove, stand, wind screen, fuel bottle and lighter fit inside the soloist (in the cup so no scratches) for a small, tucked away kit.

One more thing: don't cook an empty pot. The wife (scapegoat) left an empty pot on the burner and melted the plastic lid. Wasn't too bad, but the lid was destroyed. GSI was good about providing a few replacements.
Good Cookset
Gender:

Male

Familiarity:

I've put it through the wringer
This cookset is a good one. The pot heats water well, and it cleans easy with the non-stick coating, however i usually just boil water in it. The coated handle on mine melted a little bit when I cooked over an open fire. The provided spork is flimsy, and it is easy to jam your thumb pretty good. I really like the bowl, and the provided sleeve. The pot lid can also be used tupperware-style and keeps food and stuff from spilling in your camp while youre looking for something in your camp. It stores a Snow Peak Gigapower and an MSR fuel bottle easily, even with bowl and spork. I dont use the stuff sack, but I image it serves its purpose.
GSI Outdoors Pinnacle Soloist
Like a Boss
Gender:

Male

Familiarity:

I've put it through the wringer
This is a handy set if you are just doing solo trips alone and not planning to share with anybody. Cools rather quickly after taken off of the burner. Spoon is a bit on the flimsy side but does its job.