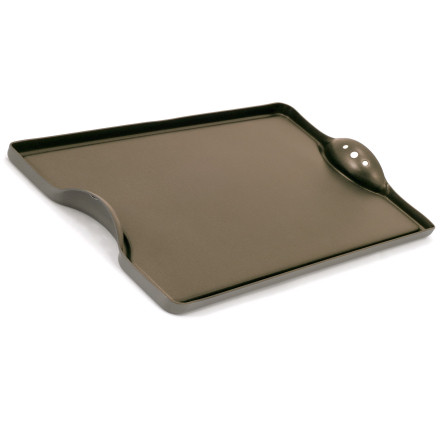 Description
Now you just need to learn to flip shrimp tails into your hat.
Whether you're making pancakes and bacon for the whole crew or looking to start your own backcountry hibachi steak house, the GSI Pinnacle Griddle is considered essential equipment. Use this anodized aluminum griddle over fire embers, a gas stove, or a charcoal barbecue, and whip up fluffy flapjacks, crispy bacon, or steaming onion volcanoes. The durable, non-stick surface holds up to metal utensils, and the grease collection channel controls the drippy mess.
nothing says camping like breakfast!
Familiarity:

I've used it several times
to me camping hasnt started until you wake up with the sun, stoke the campfirein the fridgid morning air, grab a coffee, and cook breakfast over the campfire. i have used this griddle a bunch of times and i love it. we grew up using camp fires to cook, so i'm not sure about camp stove compatibility, but over the camp fire it works so well. nothing is lamer than cooking in a little pan and having to take shifts eating breakfast! with this griddle you can cook plenty of bacon and then cook about nine to ten eggs depending on how good you are with a spatula! everyone eats at the same time! clean up is a breeze.
I got the griddle and it fits nicely on my camp stove. I haven't used it yet, but is seems like it's going to work great. It's pretty light wieght and the holes are a great idea for hanging it up.
Unanswered Question
Does one exist 11 x 11 inch square? The...
Does one exist 11 x 11 inch square? The short dimension is good, the 20" is to long for me. What else is there? I use a 12 inch fry pan now for fish and pancakes, I would like something flat. Thanks. Andy
What size is the griddle? Will it fit over...
What size is the griddle? Will it fit over a coleman propane stove top?
yes, it will fit over a coleman stove. its dimensions are 20 x 11"