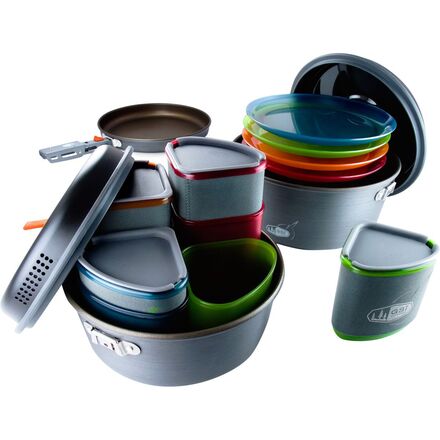 Detail Images
Ring the dinner bell and bust out the GSI Pinnacle Camper Cookset. Nested inside this compact cookset are all the tools you need to address your four-person cooking woes. BPA-free plastic comprises the dishes used for serving, durable and non-stick-coated metal pots help you cook up a storm, and the leak-free stuff sack aids your cleanup efforts. Go forth and conquer mealtime.
Four color-coded mugs, four bowls, and four plates are made from BPA-free polypropylene which is dishwasher safe, non-leaching, and lightweight
Two pots, two lids, and a fry pan give you the tools to do the cooking
Cook faster and cleaner thanks to the Teflon coating on this cookware, which allows for even heat distribution and supreme scratch resistance
Anodized aluminum metal is non-reactive, provides exceptional durability, and heats evenly for easy cooking
Welded stuff sack doubles as a sink or wash basin for post-eats cleanup
Pot lids are crush-proof, heat-resistant, and feature strainer holes for draining pasta or excess water
Folding pot grabber locks to brackets for secure handling
Set dimensions (nestled): 9.1 x 9.1 x 5.8in
What's the difference between this and the...
What's the difference between this and the GSI Bugaboo Camper Cookset? This one is $30 more, why? They both have the same size pots and fry pan.
Hey Pearandgreen,



There are two major differences between the Pinnacle and the Bugaboo.



The Pinnacle uses the Teflon Radiance tech which reaches temperature 25% faster and more evenly where as the Bugaboo uses the Teflon Classic coating.



The Pinnacle is also made of a hardened anodized aluminum which is more durable and again helps with the distribution of heat.
Love it!
Familiarity:

I've used it several times
Perfect set for family camping. Compact and easy to store. There is only 1 pot handle but it is sturdy and can safely hold an entire pot of boiling water. If you don't leave it connected to a pot while it is cooking, it won't get hot and is easy to transfer between pots.
Everything you need
Familiarity:

I've put it through the wringer
I've used this set at least a dozen times each summer for the past 3 years in a row. The pots and pans are great. Very durable and do exactly what you want them to. Cups with the sippy lids are great. Keep your coffee/tea hot without burning your hands. When I'm backpacking, I appreciate the fact that I can leave out some things to lessen the load. Still slightly bulky but I deal with it. The basin that holds the whole set together doubling as a sink is hands down my favorite feature. Having something to wash, rinse, and clean up in really makes my after meal time a lot easier.
Best for family camping
Gender:

Male

Familiarity:

I've put it through the wringer
I have had this set for two years and I absolutely love it. I have used it for car camping as well as backpacking and it works as advertised. It is a little heavy on backpacking trips but we like to eat good, so it's worth it. The best part is that you don't have to carry all of it when you go. Everything nests well even if you split it up. It has proven to be very durable and GSI is an awesome company.
Great value and very functional
Bought for car camping. Really easy to use. Best points - teflon surface, stuff sack for wash basin, packs up small, lids for pots are good. Worst points - but nowhere near a problem to not buy - handle not great (we used a trangia handle which was fine), mugs double as bowls therefore an odd shape but fine
Lots of Function, Packs Down Small
I got this set as part of a space-concious car camping kit, and after the first weekend, I am very pleased. The inclusion of 4 insulated and 4 uninsulated cups means we had coffee and orange juice at breakfast. The unisulated cups could also work as bowls for stew or cereal. The plates are on the small side, but hold plenty of food. The finish on the cookware inside and out seems equal to that of good home equipment, just lighter weight. My only gripe is that the pot handle has some play. It is is secure enough to move the pots around, but I could not feel confident flipping eggs in the frying pan. This set seems like the best of its kind.
Light and Luxurious
Familiarity:

I've put it through the wringer
I've had this set for three years and I love it. It really has everything. While it's great for multiperson treks it's a bit much for a one to two person backpacking trip. I use it most for weekend camping trips. I'm not a fan of lugging it around on a backpacking trip. While it's light for what it contains it's still excess weight.

The great thing is I can take out what I don't need and just take what I do. I love that the canvas case is water tight for use as a wash bin. AMAZINGLY convenient. The pots and pan are sturdy and the non stick teflon is surprisingly durable. If you're looking for a mess kit that even the proudest mom would be jealous of this is the one.
Looking for a quality set that is durable,...
Looking for a quality set that is durable, non-stick, cooks meals without burning meals, and is a good value. Down to choosing between the MSR Flex 4 Cooking System and GSI Outdoors Pinnacle Camper Cookset. Which is the better purchase?
I have never had any serious issues with MSR or GSI, they both make good cookware. It depends on what you want in your cookset. The MSR has bigger pots but no fry pan, it also only has bowls and mugs. The GSI has smaller pots but it does have a fry pan included and it has bowls, mugs, and plates included with it. So it really depends on do you need a fry pan or do you need bigger pots.
Both are good quality. The deciding factor for me personally was the sink/basin that is included with this GSI set. Makes cleaning up So much easier.
Does everything fit into one giant pot,...
Does everything fit into one giant pot, or is everything decided into two pots? It's hard to tell from the pictures - it looks the mugs go into one, and the plates and the rest go into a second pot. ??
Everything fits into the larger pot. Sequence is (bottom to top) Wash Tub - 3L Pot - plates - 2L pot - bowls/Cups (handle for pots and pans inside cups) - Lid for 2L Pot - Lid for 3L pot - fry pan
I was quite impressed at the number of items in the set in such a compact form. Everything nestles into the largest size pot - felt like a Russian nesting doll ... there was more and more and more.

The description above says there are 4 mugs. There are 4 mugs (with tops to keep the coffee hot) but each is nested in another drinking cup so you actually have 8 cups.

The drawback is that there is only 1 detachable handle that can get a bit hot on a camp stove ... so switching multiple pots around is a bit cumbersome.