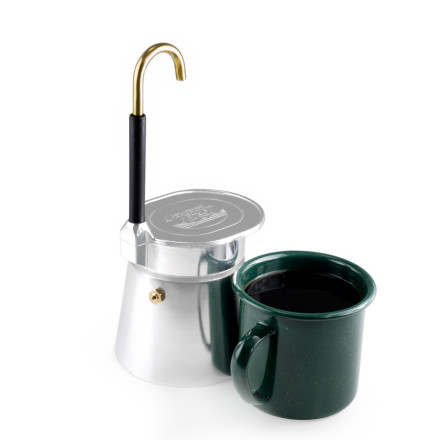 Community Images
When the java jones kicks in at basecamp breakfasts, simply pull out your grounds and the GSI Outdoor Mini Expresso Set. You only need 90 seconds to brew one double shot of your favorite espresso, so you and your companions can start the morning right and hit the trail with added pep. GSI Outdoor made this mini espresso set with lightweight durable aluminum, so it won't add much extra weight to your pack and can handle being banged around the campsite.
Includes enamelware cup (4fl oz), instructions and recipes to get you started
This is basically a camp version of the Bialetti Moka pot, so the end product is much the same. Not quite true espresso, but as close as you are going to get on the trail. Its a lot heavier than other coffee making products, but there is some kitchy quality to using one. I agree with the other users, the cup it comes with is not that great, but if taken care of, the maker itself should last a long while. Make sure you don't continue to heat it once the coffee comes out; you can damage the black sleeve and internal gasket. I have long since switched over to the Snow Peak Drip for trail coffee, but still keep this one around.
Great product but small cup.
Awesome luxury to have out on the trail.
So good, however, that it needs to be a little bigger.
I've had one of these great 4 cup moka-pots since around 1995. Back then, I was using it to make espresso (technically not espresso) while on surf safari in Mexico. But over the years, the brass tubes would break. As they did, I would set it aside and obediently buy another. I took them on rock climbing trips, backpacking trips and used them while on the road. This has been for me, an exceptional way to make great coffee for over fifteen amazing years.
That being said, there are a couple of flaws. One is the metal cup. Use it as a pen holder and buy, as what we came to know it as, the 'Bodhisattva' mug; the perfect mug. See attached photo. Get a mug identical to the one pictured and rig a short piece of silcone tubing from the brass tubing to the mug. Well, until the brass tube breaks. The second problem, that may have been addressed by GSI since my last purchase, is the brass tube. I've broken many. But, a few years back, I learned how to replace that tube with silicone tubing and polycarbonate fittings. You can see how I did this on the ArdethGear website.
It's really too heavy to take on serious backpacking trips. On those, I make cowboy coffee. But, on shorter trips, I love the GSI espresso maker. I've gone through a bunch of these, replace a dozen gaskets and installed silicone tubes many times. But, I've used it hundreds of times over the years.
It does require some finesse, however. Put the flame on high until a little coffee begins to come out, then reel it way back to low and let the coffee come out at a trickle.
This is a great little machine. After you dry run it a couple of times (or boil the parts for a couple of minutes) the flavor is impecable. Keep in mind that this is not a coffee maker, its is an ESPRESSO maker, so make sure you get the right espresso grind, one tablespoon is all you need so don't overfill the basket and then tamp it down (just like on a regular machine). If you are planning on sharing your brew, get the 4 cup, because it does require a few minutes to cool or some gloves to reset. Enjoy!
works great for camping. had it for 5 yrs already
works great for camping. had it for 5 yrs already. i grind the beans with a hand grinder right before.
I didn't experience any mechanical problems with this espresso maker. I just didn't get the coffee I was expecting. The steaming process left each batch a little short on the amount of coffee produced, leaving some liquid in the boiler. It also seemed grittier than what other makers crank out. As far as enjoying espresso in the high country, it is adequate for the job.

FYI: Make sure to thoroughly clean both filter grids between cups. If they are clogged, you could end up with a real mess on your hands.
I got the 1 cup model, I think the first time I packed it, the little spout thing broke from the container part, I rigged it enough to work, then the gasket started failing after like, 6 months. it would spew steam out the sides no matter how hard I screwed it down.

The clincher was this, it has a LIFEIME warrenty, but after 4 emails to the company..they NEVER replied

The product is a good idea, but the company customer sevice is non-existant