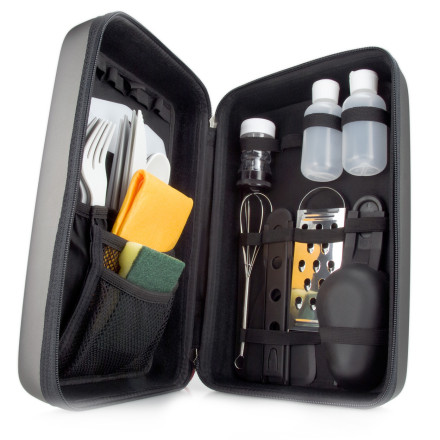 For those who treat the backcountry cooking experience like a visit to a five-star restaurant, there's the GSI 23-Piece Kitchen. Camp-cooking newbies beware—this kit gives you the tools you need to turn the nearest log, rock, or picnic table into a serious, white-tablecloth affair. From food prep, to service, to cleanup, this kit has everything you need, and it all packs neatly into a zippered EVA-foam organizer case for easy carrying.
I like this little kit. I had every thing I needed and though a but bulky I like the case. My only complaint is that the spatula melted on the first use when making pancakes. Keep in mind I was using GSI outdoor pans and stove. So I wasn't so thrilled about that.
From cutting board to whisk, to utensils, to ladel, this kit has it all. the case is made of a sturdy, form-keeping material so you dont have to worry about squashing stuff when you pack. in fact, there was plenty of room for much more like lighters, firestarters, additional spices, and more.
This is an essential, so glad we got it. Has all the things you need for eating while in the outdoors. Really sturdy case, organized, and makes camping more enjoyable.
Excellent for car camping
We bought this set as a one-size-fits-all car camping untensil extraordinaire and it's exactly that. We love the versatility of all the items included and love that all we have to do is grab the case and we know we've got everything we need. There's even extra room inside for a set of plates and other goodies.
Keep in mind, it's a big case, bigger than we expected. So I would not recommend this for anything other than car camping as it will take up a ludicrous amount of space in your backpack.
This is an awesome little case, the cutlery isn't too flimsy, but still light weight. The size isnt' too big (I would say around 8x11") and it's lightweight. Great for car camping or camping with only a small hike. Won't go anywhere without it!
GSI Outdoors Kitchen Set 23
Hey! We bought this set to take with us when we tent camped on motorcycle trips. This is a very light kit that has just what we want. The eating utensils are substantial and the cooking tools are great. Love the case ~ fits easily on motorcycle in stuff bag.
I was intending on piecing most of what this kit contains out but with the addition of a great little storage kit, figured the whole shebang was the way to go. I was correct in that assumption. I'm not scrapping around trying to find out where all my stuff is since its in one convenient location that I grab and go.
My friend took this on a bike ride we did down the west coast. We had a support vehicle so we were by no means traveling light. But for car camping and short trips it's a great set to bring along.
Another great item to have while camping although unless I was witha big group I wouldnt take this backpacking. It is light weight for all the stuff it has in it but you have to completely dry the sponge and towel otherwise everything gets to be a mess