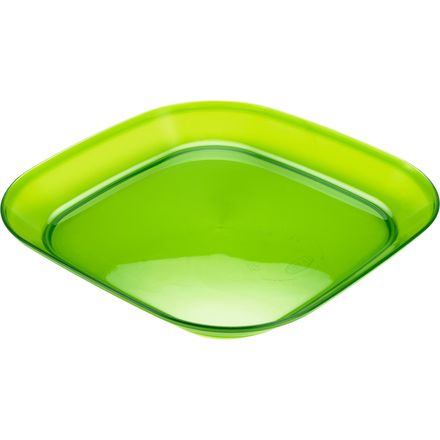 Description
Chow down with the Infinity Plate.
Take your place in the chow line with your trusty GSI Infinity Plate in hand. This lightweight plate is perfect for the campground or the backcountry, and the BPA-free polyethylene is completely recyclable.
Great plate
Familiarity:

I've put it through the wringer
This plate is tough. The lip around the edge of it helps it to also double as a shallow bowl if needed. It's also dishwasher friendly which allows for a quick thorough cleaning when you get back from your adventure.
Super tough, good looking, easy to pack, and best of all- easy to clean. I would definitely recommend this plate to anyone and everyone!
plate appears tough to break and doesn't bend under weight. right sized for typical portions. stacks well. a little shallow for soup and runny stew.
Yes they are. However, I made a hot pocket on mine and the little sleeve melted the plate pretty bad. If you're just heating up food it works great. I put mine in the microwave for 5 minutes and it barely got warm.
It's a good plate, especially for the money. It's strong, simple, and keeps my food off the ground. It's plastic - it melts (be careful).



Update - I say it melts but NOT easily. I made a hot pocket on mine and the sleeve that you cook it in burnt the center pretty bad. That's the only issue I've had with it melting. I've put it in the microwave for over 5 minutes before and it barely heats up.
Great plate, great color, great size, and its easy to clean.
It's a great plate and I had no trouble eating stew out of it without it dripping all over me. Too bulky for backpacking though.
really good plate, deep enough for anything, easy to clean and very light.
Great plate. I put food on it and it stayed there. Then I ate the food. Only problem is you have to wash it or it gets everything all messy.
All in all this is a pretty great plate. Like Merebea mentioned, it's got nice deep sides, so if you were really in a pinch it could almost double as a bowl. It definitely does the job for rice and camping meals. The biggest downside for me is it's size - it's too big and too tough. That may seem like an odd thing to complain about, but when its nearly impossible to get this plate into a bear canister, it's too large and rather inflexible. For that duty I resort to my squishy bowls.
If you're just going car camping, or on a backpacking trip where bear canisters aren't a requirement, it is a great plate. Mine has taken quite a few beatings over the last few years.
, ☃bcs_badge_alumni_label☃
Dimensions:
9.2" x 9.2" x 1.1"
GSI Outdoor Infinity Plate
The Infinity Plate is nice and big. The sides of the plate are deep and steep so your rice won't fall over the edge and the burrito juice won't drip off the side. GSI Outdoor also made them BPA-free! I highly recommend this plate for car camping, river trips, and shorter backpacking trips.