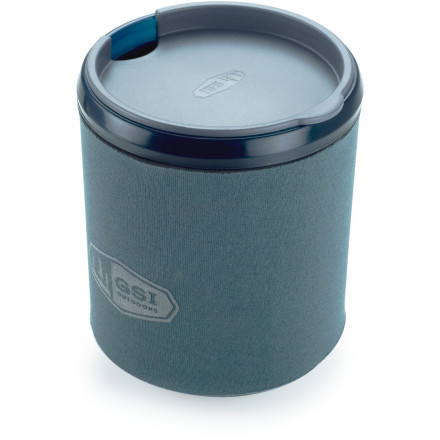 Brew yourself some coffee, pour it in your GSI Outdoors Infinity Insulated Mug, and head to the clearing to see if you can spot any wildlife getting in last-minute errands done before dawn. This mug with a hefty 17.5 capacity is crafted from polypropylene that is not only BPA-free for your health, but is fully recyclable for the health of the environment.
Infinity polypropylene will not absorb odors, is super-lightweight, and is dishwasher-safe
EVA sleeve helps keep your beverage warm and protects your hand
Sip-It traps heat and lets you sip as you stroll without dousing yourself
Compatible with GSI's nForm Destination packing system
Does the mug have measurement markings on...
Does the mug have measurement markings on the inside? Useful when making soup. Thanks in advance for an answer.
Best Answer
Nope, no graduated markings inside. If you're using it to mold the soap, you might not be able to free it without a liner, and if you're trying to find a small measuring cup, why not just use Pyrex?
Thanks for the response. I asked cause on backpacking trips, I take dried soups and it is helpful to know how much a cup is so it isn't too diluted and don't want to take a separate measuring cup.



Thanks again.
No problem. That's not quite soap making, but I know what you're talking about. With any cup or mug that has no marks, I always prepare the ideal batch at home with a precisely measured amount of water, then lightly scribe a small line on the inside at the increments I need for the food and volumes I usually use. As you use a cup more, you also start to get a sense of what amounts look like.
I like this for several reasons: It is big enough to hold a meal. The insulation keeps drinks and food hot. It is fairly wide so won't tip over. And is strong enough that I can jam stuff in it to conserve space in my pack when hiking.
Works Well
Gender:

Male

Familiarity:

I've put it through the wringer
This is one of the better backpacking mugs I've used. It's lightweight and holds a large volume. Its short, wide shape has great stability- very important in my opinion. The insulation is just enough as it protects your hands but allows some heat to escape so you can begin to drink your coffee sooner rather than later.



Yes the lid can be tough to take off. I often have to stick the handle of my spoon in the mouth opening and pry it out. Oh well, it's easier than growing up.
For the price I guess it's okay. It definitely does a good job at containing the liquid, it's fine for any liquid hot or cold. The top (at least on mine) is very hard to take off, taking it off with a hot beverage in it would be asking for burns! The cup itself is not insulated so your beverage loses temperature fast. It has the sleeve with it but all the sleeve does is keep your hand safe. The sleeve after using it a few times becomes loose and slides off easy. Overall I think there are better options out there but if your looking for something cheap that does the job this works fine.
YOu can separate the sleeve and the mug...
YOu can separate the sleeve and the mug right? Is there any room to drill two small holes in the insulating sleeve in order to run some line thru it to create a hanging loop of some kind?
yes, you can separate them, but i really dont know about drilling anything...