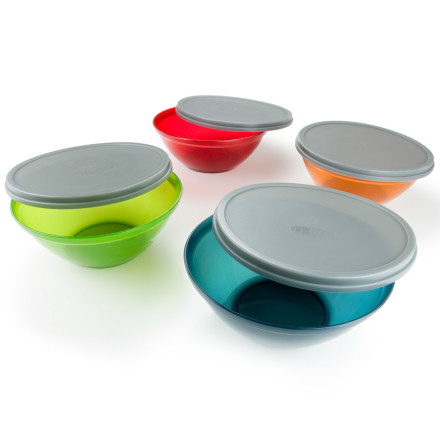 Community Images
The GSI Outdoor Infinity Bowl Set stacks together for convenient packing, and the tough BPA-free construction makes campsite dining safe and convenient. Infinity polypropylene is lightweight and 100% recyclable. Throw these four bowls and tight-sealing lids in the dishwasher after your picnic or short backpacking trip.
You can do better, but you can do worse too
This bowl is made of a flexible, colorful plastic, not lexan.

Pros: Lighweight and tough, this bowl will last a long time. The dimensions are such that you can lick it clean in the backcountry. The sealable lid allows you to hike with leftovers. The lid makes a great cutting board which won't dull your knife.

Cons: Seal is not reliable enough to hold liquids like spaghetti with sauce. I've had one of these burst inside my pack which was totally miserable. It is also difficult to know if the seal is fully closed or not. Like tupperware, the bowl tends to retain a thin coat of oil after washing. This is annoying in the backcountry - your breakfast cereal will taste like last night's ramen.

For the price, not bad, check out the Nalgene PC jar as an alternative, which is tougher and has a better lid.
Can anyone tell me how wide these bowls...
Can anyone tell me how wide these bowls are??
Best Answer
The bowls by themselves are 6" in diameter. Total dimensions when nested together w/lids is 6.6" in diameter x 4.5" tall.
Are these microwave-safe? I'm curious...
Are these microwave-safe? I'm curious whether they'd work for everyday kid use at home.
They are not microwave safe but will hold up to kid abuse.
GSI Outdoor Infinity Bowl Set
The Infinity Bowl Set nests together nicely and the bowls are in fun, bright colors. I'm not sure the lids are really necessary features, but they snap onto each other too. These aren't especially lightweight, but are great for car camping and shorter backpacking trips. While these can't go in the microwave, you can throw them in your dishwasher when you get home. GSI Outdoor made these with BPA-free material, so you really can't go wrong.