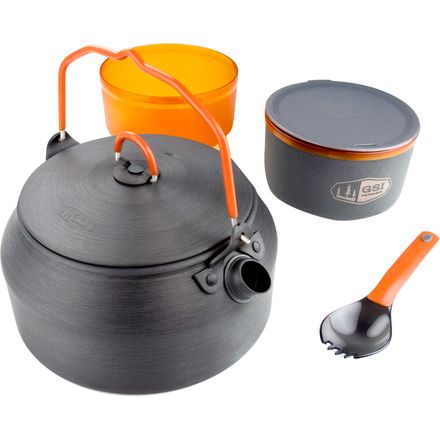 Detail Images

Videos
Description
A cold camper's ultralight delight.
Once you dig into your snowy solo camp, the 11.1-ounce GSI Outdoors Halulite Ketalist Cookset helps you quickly melt snow and satiate your high-altitude appetite with hot chicken noodle soup and tea. Climbing the windy ridgeline left you numb and weak, but this cookset's 1-liter kettle, 14-ounce insulated mug, Sip-It lid, 14-ounce bowl, and telescoping foon help you refuel and warm up before you nestle into your sleeping bag.
The 1L Halulite (hard anodized aluminum) kettle provides incredible abrasion resistance and efficient heating and boiling
Kettle features a locking, coated holder to prevent burns
An insulated mug and a bowl work for both eating and drinking and are made with lightweight, durable Infinity BPA-free polypropylene, which keep them leach-free and resilient to heat, odors, and heavy pressure inside your pack
Lid features a Sip-It opening for drinking and is crush-proof, heat-resistant, and won't warp in your pack
Heat-resistant foon, formally known as a spork, extends to provide cooking and eating convenience
Cookset packs down completely into kettle and included stuff sack keeps soot and ash off your pack and packed layers
Great Light Setup
Familiarity:

I've put it through the wringer
I use this setup with the OILcamp stove and it makes for one very light system
worked great
Familiarity:

I've put it through the wringer
lightweight, compact, and brings a fast boil. I wish it had a whistle but other than that its great.
Fast Roil; don't need the whistle.
Familiarity:

I've put it through the wringer
I got one of these little units. It brings the water to a fast boil in a quick amount of time due to its closed nature. It is light to pack and small enough to fit easily in many little nooks and crannies. It is one of my go to units anymore. A winner. Whistle? I don't need no damn whistle.
8 oz. MSR Canister fit inside??
8 oz. MSR Canister fit inside??


Best Answer
It won't fit a Coleman butane/propane 8 ozer. But it does fit a JetBoil 3.75 oz canister perfectly for extra fuel.
GSI Outdoors Halulite Ketalist Cookset
nice but some thing is missing
Boils water and what not that was expected, but they could have gone above the expected and included a whistle. Now we have to have someone whistle when it starts to boil, but it's not the same. It will never be the same.
Using the GSI Kettle with Alcohol stove
I have the tea kettle and it is great. Being anodized aluminum, it is quite tough and is pretty scratch resistant (although, scratches aren't a concern for me). I love that it has a wide bottom which works quite well with some of my larger alcohol stoves. The handle is very useful, however, I wish it were designed a little different. The handle has to be folded over to be able to easily remove the lid.



As others have mentioned, it is pretty easy to load stuff inside the kettle, which is a plus, however, if you use the kettle to actually cook in, it is a little tough to get the inside cleaned up real good (unless you have tiny hands).



Overall, this is a great kettle, even for the weight and especially for the price!
What's up with the sh**ty spork
All and all this is perfect... love cooking with kettles... but what is up with the shitty little spork? Dear GSI... keep your spork
This is a great little set! Extremely light and compact when nested together. It works great for boiling water, and I was able to fit my MSR pocket rocket inside of the included bowl to save additional space. Also, if you don't want to bring the bowl and mug along, a 4oz Fuel canister can also be nested inside of the teapot (which has about a 4.6"in. diameter opening as close as I could measure) with room to spare around the edges. The included sack cinches at the top to hold the lid on for easy packing and travel.