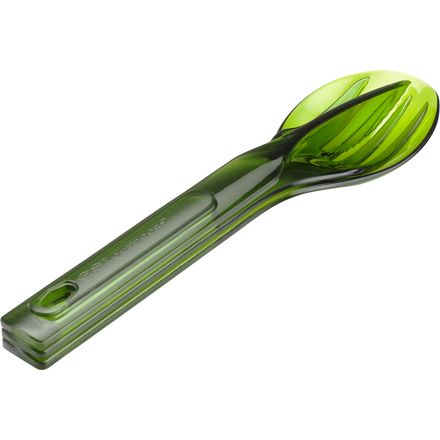 Description
Eating with your hands is so cro-magnon.
Lend your backcountry table a touch of color with the lightweight, virtually unbreakable GSI Gourmet Stacking Cutlery Set. GSI made this set to match its nFORM line of tough camp-kitchenware. The fork, knife, and spoon snap together for convenient carrying, and come in bright hues for variety and easy identification.
Don't bring the whole kitchen!
Gender:

Male

Familiarity:

I've put it through the wringer
I feel mess kits can be an endless endeavor for those that are trying to have everything for their eating needs. This works just perfectly for me because I like to have a fork spoon and knife all in one place. These are not ideal for stirring while cooking but they are great for eating. Many are fine with less but this is some affordable, tough, light, plastic that will make you feel like your eating at home in the backcountry. Don't compromise on the small luxuries in life or bring the whole kitchen, go GSI!
Purchased with a plate/tray and cup on SAC for $5.33. Mess kit not offered on BC.

Snapping the three together is nice but it doesn't feel like they would hold together if they were floating around in your pack. Luckily you can string a dog tag chain through the holes at the end or wrap a rubber band around them to keep them together. I keep mine inside of my cooking pot and they stay together just fine.

Of course they're not as durable as any metal utensils, but I'd worry more about the knife or fork poking through my pack than something in my pack breaking the utensils. They're superior to any plastic utensils I've found at my local supermarket.

I didn't test the knife's sharpness except to press it to my skin. It feels sharp and sturdy enough to handle a loaf of Italian bread (the hard kind that you could break open over your knee). The fork's tongs aren't as impressive to me. They moved a bit when I stabbed them into some of the crustier (ie, burnt) areas of my campfire-cooked pies and sammiches. If I continue to eat such things with my fork the tongs will eventually break. GSI provides deeper and sharper tongs than my titanium spork but they are not as strong.

Most importantly: they are comfortable! You can eat with these all day without cutting the corners of your mouth!

Overall, a great set. They make buying titanium utensils an option.
If you lose cutlery or don't use it for cooking these are pretty handy but I'd spend the extra money on a titanium spork and know it can take everything I put it through.
They do what they need to. A little short and flexible for my tastes. They just don't provide a nice stable feel in your hand. They stack ok and they don't seem like they will break. Like someone else said below, I wouldn't put them around the stove.

I prefer the Guyot Microbites for only a dollar more. Much stiffer and knife/spatula works remarkably well. Don't think I would repurchase the GSI set.
This stacking cutlery set from GSI Outdoor does the job. The knife does a pretty good job cutting for being plastic and the tines on the fork are pretty sharp. The set is certainly lightweight. I agree with the other reviewers in that they don't stay snapped together very well, but that's not really important to me. They're short, probably about 6.5", but they do the job. So far they seem durable, other than to heat perhaps. I've thrown them in the dishwasher without any problems.
melted the fork using it to stir food on stove. don't stay together very well either. must say they are lightweight but save yourself the 4-6 bucks and pick up a disposable set from Quick check on the way t \o the trailhead.
these are great for the price. they don't stay together all that well (hence the four stars) but are lightweight, easy to clean, and perform their job of transporting the food in my bowl to my mouth very well.