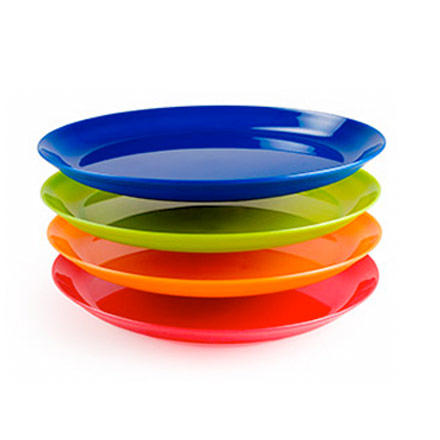 Community Images
Description
When you don't have far to travel, and you'd rather not have four people all eating spaghetti directly out of the pot, pack GSI Outdoors' stackable Gourmet Plate Set.
Four lightweight, color-coded plates nest together to form GSI Outdoors' Gourmet Plate Set. The Gourmet Plate Set's compact design occupies a mere 3cu in of space in your pack, and weighs 5 ounces. Bring this GSI plate set on car camping adventures, short backpacking adventures, and road trips.
easy to pack, easy to clean. very light and perfect for backpacking or car camping, or tailgating. Used them in Escalante, UT and they were perfect.
simple
Familiarity:

I've used it several times
does the job. simple and pretty cheap. plates are small though. i use it for family car camping
What can you say about plates?
They're plates. You put food on them, then you eat the food off them. They work.

I usually stuff them in my pack when I'm backpacking and they don't take up too much space. They also clean off real easy which is convenient.
Anybody know what the weight of a single...
Anybody know what the weight of a single plate is? Thanks!
4 plates totaling 5oz, so 1.25oz per plate.
Great plates. They do what they're supposed. They hold the food instead of my lap.
Don't stack in 2 person set
I purchased these plates to fit into my GSI backpacker cook set. As tonycam mentioned they don't fit into the pot or in the wash basin at all. They can fit between the pan and the lid but the added inch of rise this creates makes it unable to fasten the velcro on the top of the set. Plates seem very sturdy and for the price they are a great buy. Just need to decide if I am going to alter the way my top closes or just stack these separately.
GSI Outdoor Gourmet Plate Set
I failed to pay attention to the 7.5" diameter of these plates before ordering. I returned them because that's just too small for my mainly car camping needs. The sides of the plate aren't very steep, which makes me think food might slide off and liquid from messier meals might drip over the edge. In general, the Gourmet Plate Set plates are nice enough, and they're BPA-free. I ended up going with the larger GSI Outdoor Infinity Plate.
This is exactly why I was planning to buy these, but I couldn't be sure they would fit in the 2-person system. Thanks for the info!! The system is really well-designed, but it could use a couple of plates as a standard element.
I bought these plates to go with the 2 person GOURMET BACKPACKING COOK SYSTEM
http://www.gsioutdoors.com/detail.aspx?a=8&p=44209&

It is the smaller version of the GSI Outdoor Gourmet Camping Cook System which is sold here.
http://www.backcountry.com/store/GSI0102/GSI-Outdoor-Gourmet-Camping-Cook-System.html

These plates *do* fit in my 2 person kit, but not at the bottom of the stack as pictured in the manual. I have to place them between the plastic lid and the frying pan at the top of the stack. This makes the frying pan sit about an inch higher than normal but the kit was not designed for plates.
...or just put them on top of the frying pan, which is what I just settled on as I was writing this. My point is, the plates do not fit in the wash basin or the pot.
I do love my GSI products!
These plates are a little small, but lightweight. They don't feel as solid as a Lexan plate.