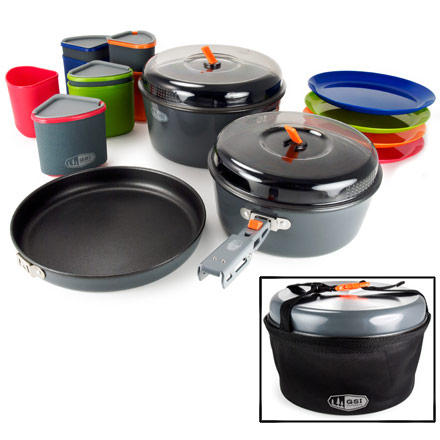 my experience about gsi camping cook system
My uncle told me about the gsi cook system many times but one day I decided to purchase the GSI cook system. I am glad I chose this kit. This lightweight and compact kit took up little space in my pack and was not a burden to carry around. Easy to use clan and pack, can't ask for much more. This is a kit that was recommended to me and I would recommend it to others.I truly love this site for cooking purposes Awesome!!!!!!

---------------------------------------------------------

Melinda storer

"http://www.caravanmarket.com.au" "dofollow">caravans>
I use this all the time! Basically all I use for home use as well as camping when I with a big group of people. The bag it all packs into doubles as an awesome dog bowl!
The money is worth it, the quality is great, the design is top notch I used mine for three weeks in the Utah backcountry. Wound not travel again without it.
, ☃bcs_badge_alumni_label☃
Great for Car or Bike
We've used this set both out of the car and off the motorcycle to good effect. It's small when packed, holds everything you need, and if there's only two of you it's easy to take out of couple of the cups and put other junk like food/spices/utensils in the space they occupied. We're thrilled with it.
I loved the idea of this product. My husband and I backpack with our young children and needed a family system - very hard to find one big enough. This set had a very large pot - awesome! and a smaller one, but still big enough to boil water for hot coco for 4. The cups work great except for the lids, which want to pop off just as you are taking a sip of some piping hot coco - this didn't go over well with my 2 and 4 year olds and my hubby who weren't thrilled about their wet shirts and spilled coco. We may have overlooked the cup lids and the weight (3 lbs 9.5 oz -whoa!), except that the plastic lids for the pots were way too wimpy and melted when used on a camp stove. That was the kicker and the reason why we returned this item. The other drawback for backpackers is that it is teflon (also wimpy!) and can't be used to cook on a fire or substitute for a shovel, etc. We would love this system if it was more durable (no teflon, anything but plastic lids, more open fire friendly). Thus, we are right back where we started - trying to find a heavy duty, family sized cook system. Any suggestions?
are the lids plastic, i thought they used...
are the lids plastic, i thought they used to put out a set with lids that doubled as frying pans!???
The GSI Bugaboo set I just bought may be what you're looking for. Comes in three sizes.http://www.backcountry.com/store/GSI0090/GSI-Outdoor-Bugaboo-Cookset.html
This set is a little bigger and heavier than the traditional MSR cookset, but I love how everything fits together. You can store spices and little containers in the cups and the whole set is high quality.