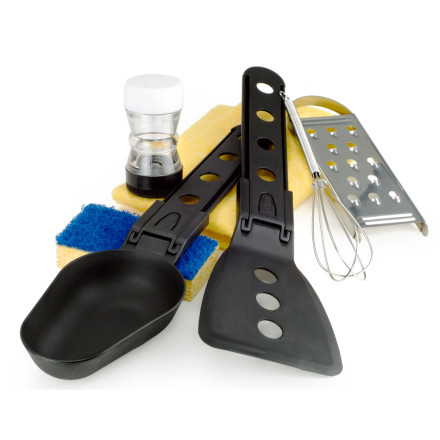 When heading into the backcountry doesn't mean settling for some freeze-dried, over-salted garbage at the end of the day, bust out the GSI Gourmet Backpack Kitchen and serve up something you and your buddies will actually enjoy. This compact kit gives you the tools you need to turn the nearest rock or fallen log into a full-service kitchen.
Best set of its kind.
Gender:

Male

Familiarity:

I've used it several times
I really enjoy this set. I usually do not take the spatula, grader or wisk. I love that the spoon has the measurments in it and is very light weight. I also use the sack for my silverware. Having salt and pepper adds that little bit of enjoyment when your away from your kitchen cupboard. I have not used the spatula in the manner others have reviewed at this point.
Great idea, poor materials
Thought this was a great little package for backcountry cookinig and it fits the bill nicely. However, when we reached into it for the first time and used the spatula to flip pancakes, the spatula melted immediately upon touching the skillet. I was really shocked at what happened and disappointed in GSI Outdoors as they usueally have nice equipment. Unfortunately, they really cut some corners on this gear. I would recommend you try any thing other than this package if you need a few kitchen essentials for camping/backpacking.
All that you need. Simple. Efficient.
Good for pancakes while backpacking
I bought this for the foldable spatula. I like to do pancakes while backpacking, and the spatula fits the bill well. It's not super strong feeling, so I treat it with care. So far, so good. The Salt/pepper shaker seems heavy for its size, so I don't use it at all for backpacking. The other stuff in it--never used.
Just the right amount of stuff
I liked this kit. It's of course what you see in the picture, so I'll skip to just a few points good and bad from using this for a week in Zion park.
1. Wisk is great for making pancakes. One of the end loop pieces kept coming loose. Not enough to be a real problem, but it was annoying.
2. At first I wondered if the sliding down part of the handles was gimmicking, but it helped the fit into small outside pocket of my pack so I guess. not.
3. Shape of the ladle seems to have been well thought out scoop out all the food in a small pot. (It's more than just a basic oval shape.) They even put measurements on the inside of the ladle. However, I think it would have been more useful measurements as table spoons instead of the oz they used.
I made two or three meals when I was out in Zion and rest of meals were freeze dried stuff. All and all this set was just right. I'm sure I'll be taking on many more trips and I can't really think of much to add or take away from it.
Really good kit for camping
Love this set. Has everything we need in a quick small set. The spatula did melt a little at high heat cooking eggs, that's why it loses a star. But still pleased with it, and continue to use it.