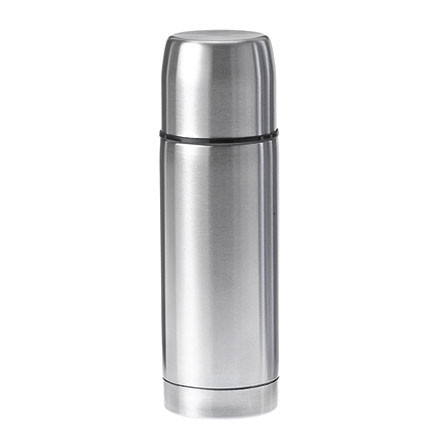 Detail Images
Instead of settling for lukewarm mud, pour your beverage in GSI's GSI's Glacier Stainless Steel Vacuum Bottle. Your drink will stay hot for up to eight hours. This thermos uses double-layer stainless steel, which insulates better than previous vacuum models and is more impact-resistant. The top arrows allow you to pour your drink without fully removing the lid, so you're drink stays warmer even longer.
Hot Coffee All Day Long
Familiarity:

I've put it through the wringer
I have used this thermos for about 1 month now and it is great. It has kept my coffee and other hot drinks hot for hours. I have also found out that if you want to extend the heated time of your drinks fill the thermos with hot water for about 20 minutes to get the thermos really warm and when you put your hot drinks in it they will stay hot way longer. I have even dropped this thermos from about 15 feet up onto the ice and it showed no damage.
Hot tea all day!
Familiarity:

I gave it as a gift but have feedback to share
I gave this as a gift but he said, "this thermos will keep your tea hot for an entire 7 hour tour. Not warm but hot! Such a morale booster after a long day in the mountains."
Hot Chocolate for 4
Familiarity:

I've used it several times
This thing is big, at least a lot bigger than I was expecting when I looked at the picture. The stainless steel design is easy to clean and maintain. But most importantly, it keeps the warm liquids warm. I filled this thing up Sunday morning with some hot chocolate in below freezing temperatures. When I got home Monday morning and poured out the leftovers, it was still steaming in the sink. Keeps enough hot drink inside that me and 3 other dudes were able to all share a glass of some much needed hot stuff in 10 degree weather.



On a side note, here's a recipe for some delicious camp hot chocolate.

3 packets hot chocolate mix

12-17 Andes mints depending on how strong you want it

Mix and drink up.
Fuel the Fires
Familiarity:

I've put it through the wringer
I went ski touring 2 days in a row and used this GSI Vacuum bottle one day and a Hydro Flask the next. The GSI offered infinitely superior heat retention when compared to the Hydro in basically the same conditions and temperatures. The liquid in the GSI botttle was literally still warm at 5 pm, whereas the Hydro Flask liquid was barely tepid. They both performed admirably during the first 3-4 hours, but if you are going to be out all day I would recommend this bottle first. It was able to retain heat much longer than the Hydro Flask when I tested both.
Only used it a few times but...
Familiarity:

I've used it several times
so far SO RAD! Keeps my hot beverages hot on a long winter tour. Stoked on it so far, if it changes I'll update.
So Hot!
Familiarity:

I've put it through the wringer
I've opened it over 24 hours after the hot water went in and it was still piping hot. Everyone needs one.
This thing kicks ass, keeps things hot All day. The full L is great for a group.
GSI Outdoors Glacier Stainless Vacuum Bottles
These are awesome! Fits well in a water bottle pocket on my bag. My coffee is still warm after a day on the mountain, and my bf loves it (keeps his coffee TOO hot). Love the pour spout so you don't have to let cold air into the bottle. Now my dad wants one too...
Unanswered Question
Where is this product manufactured? ...
Where is this product manufactured? China?
I've had my Thermos for a few years now and haven't had any complaints about it. It keeps my Hot Water or Hot Chocolate hot all day at work and it's fun to open the vacuum seal and hear kind of vacuum pop noise it makes! I love my Thermos!
I have gotten this recently (1 L version) and it does the job. I was looking for something lighter (this is 600 g or 21.16 oz) but did not have time to continue my research. I would be using this also outdoor in cold temperatures (down to -30 C or -20 F). I would be comparing the performance of this bottle with the Nalgene Tritan/OR Water Bottle Parka combo (together they weight half of this bottle, 300g, cost a bit more around 34$ and are a bit more compact). Recommended use is clearly marked as "camping" so I cannot complain too much anyway. :-) I have also considered the Primus 1L but it was a bit more expensive and only a little bit lighter.
Unanswered Question
How long can this thermus keep whole milk...
How long can this thermus keep whole milk hot for?
Is it safe to keep milk for my baby in there for 8 hours?
How many ounces can it hold?
Can I wash it in the machine?
Is it leak proof?
Kept coffee warm through my whole drive to Yosemite, then hot chocolate warm until dinnertime the next day! This thermos is far lighter than others I've tried, and it looks pretty sweet too. Definitely a good purchase.
Awesome vacuum bottle! Keeps hot water/coco too hot to drink after 8hrs, even when stored in the freezer. After 36hrs, hot coco does just turn to warm coco....but that's still awesome when coming back from an extended climb.

Few complaints: The bottle definitely isn't light, so take that into account when looking at bottles to take into the backcountry or leave in the car. I would have preferred the inside of the cub/lid be stainless steel as well, but it's plastic lined. As others have mentioned, the inner lid is finicky, but easy to figure out with a few uses.

Definitely a great product. Love having it!
Keeps your coffee or tea real warm after a day hitting the slopes, almost too warm actually. I usually leave the liquid cool down a bit before closing it. Haven't seen the construction issue other reviewers are experiencing.
Build is quality and simple. I've had others with the push top and they are impossible to clean and have to many gaskets. Went hiking for a day and a half and came back to the car with warmish coffee for the drive home.
this thing keeps stuff hot hot hot for a long long long time.

you think: that's what a thermos should do! why is this joker only giving it 3 stars?

2 reasons:
1. the inner cap is not very strong and you really have to pay attention when screwing it in or it jsut over-threads itself and pops loose. not a terrible thing, just a slight annoyance.

2. after a few weeks of usage the seal (wherever it may be) broke and air with a tiny bit of liquid got in between the stainless shells. that means the heat gets transferred straight to the outside environment. and all you scientists out there know that means room temp coffee.

it was a great great great thermos... while it lasted
The glacier stainless steel vacuum bottle works as described. Keeps the coffee hot and washes up well. We pour in a spot of cream before the coffee so the washing up is very important. There are no "hidden" spots that harbor liquid, hence creating a spoilage issue with the cream. We are happy with the pot. Just wish it were a bit larger.
Best Answer
Nothing that GSI sells is made in the USA. But, then again, no stainless steel water bottles currently available are made in the USA.
Hey backcoutry.com! You should change the country of origin in the sidebar.
Unanswered Question
I'm pretty sure I know the answer to my...
I'm pretty sure I know the answer to my question, but I would like nothing better than to be wrong...is this bottle made in the U.S.?