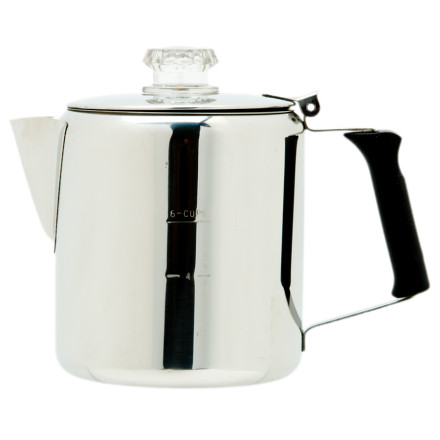 Colors

Detail Images
Description
It's time for the percolator.
Nothing says camping like crawling out of the tent and throwing the GSI Glacier Stainless Percolator on the stove. This rugged java brewer features ultra-durable construction and a handy PercView knob that lets you know when it's time to caffeinate. The heat-resistant silicone handle stays cool to the touch, and the whole package is dishwasher safe.
Solid Perc
Familiarity:

I've put it through the wringer
In my opinion, the six cup is the way to go. Makes about three full size mugs of coffee and is small enough to heat over a smaller stove like an MSR pocket rocket without compromising the stability of the stove. I use it everyday in my house as well...equally capable and worthy in the kitchen. Can't beat it for the price and durability.
Unanswered Question
which the pot dimension of the 3 cups one?
Great Coffee Maker
Familiarity:

I've put it through the wringer
I love good coffee. I have used several types of coffee makers while camping and have struggled with finding the best way to make coffee for my wife and I. Pour overs are too slow, expresso makers make too little. This works great. The 9 cup can make up to 4-6 mugs of coffee (depending on your "mug" size). Clean up is a little more involved, but the speed, volume and taste of the percolator is amazing. Just make sure you grind a little coarser than you typically would for a drip style.
Good pot!
Familiarity:

I've used it several times
This pot is great for making coffee for the group. If using a normal coffee filter I suggest filling it to just below the 9 cup tick mark on the inside. I overfilled the first time and it ended up overflowing.

Use 1 heaping spoonful of coffee for every 3 cups of coffee (adjusted depending on how strong you prefer your coffee)
Breakfast!
Familiarity:

I've put it through the wringer
Great for camping or even at home on the stove top!
Need my coffee!
Familiarity:

I've put it through the wringer
Everyone who knows me, understands I am not a huge morning person and I need my coffee in the morning. Picked up this peculator to help assist with my coffee addiction when out in the wilderness. The 6 cup option isn't super bulky and is a perfect size for some car camping. Love this thing and I wont go camping without it, coffee is a must!
great coffee pot- ignore instructions
Familiarity:

I've used it several times
There are more than one mistake in the instructions. Throw them away and google on how to use a percolator. Also 6 cups? Really - more like 3 or 4. I have to add that customer service is fantastic.
Can't camp without it!
Familiarity:

I've used it several times
I've used it on a rapid boil, on a grill and a propane stove. Easy to handle too when coffee is hot and ready.
It's the only way I make coffee
Familiarity:

I've put it through the wringer
I have the 6 cup version, which makes enough coffee for three or so people depending on your opinion of a cup of coffee. I've had it for about two years now and probably use it about once per week on average with no visable signs of wear.
Percing is so fun!
Familiarity:

I've put it through the wringer
I am hooked on the Perc. I use it at home, at camp, and in the back of the truck. It is the best sound and site to hear and see the coffee percing early in the morning. The perc in the pic is the 9 cup.



Eric Watford

Expert Gearhead

ewatford@backcountry.com

800-409-4502

Ext. 6069

Instagram: @ericwatford
Shelley,



The bulk of GSI products are made overseas.



This product is made in China.



Jared D.

Gearhead

800.409.4502 ext 4055
, ☃bcs_badge_alumni_label☃
completes camping!
This pot is perfect! Provides enough for a larger (9 cup)group to get a little cup each morning before going in for seconds OR provides you and a buddy plenty for a high strung day. Super easy to use and the handle hardly gets hot (i still used a towel to pull it off the stove). Only suggestion is to let it percolate longer than you think....totally worth the money!
I've used this percolator about a dozen times now. The rubber handle is a key feature, to keep from burning your hands when the coffee is ready. Also a nice feature is that simple instructions are included, with how much coffee to add and how long to percolate. Cleanup is easy.
I really love this thing. Like really... I bought it for a camping trip late in the summer, and have been using it religiously ever since. It is very easy to clean, very easy to use, and makes a very tasty cup of brew. This lovely contraption has seen at least 5 lbs of coffee, and that is probably a low ball guesstimate. For the price and quality you get it would be a bad decision not to get this percolator. Sure there are espresso makers that are awesome, but this is a COFFEE maker and it kills it!!!
I busted this out on a recent camping adventure and was extremely pleased with the results. It's really easy to use. There are little dashes inside the container showing lines for filling for either 4 or 6 cups at a time. The coffee was great though slightly on the weak side. I attributed this to the fact that I didn't let it do its things for quite long enough. Washing this beast is a breeze. All the pieces come apart for extremely easy cleaning and it is dishwasher safe which is always nice.
This stove-top pot also comes in a 12 cup...
This stove-top pot also comes in a 12 cup version. Same straight sided style (not tapered like the 14 cup campfire version) but doesnt appear to be offered here. Any reason why? I have the 12 cupper and it is great for a group of 3-4 adults (or 2 SERIOUS coffe drinkers). I would like to get a few more, but again... not offered. Please help.
Hey Don, looks like you wrote this a while back but it looks like we have the 12 cup version back in stock!
Nothing better than fresh brewed coffee in the morning.
I love this coffee pot! It makes an excellent tasting coffee (after you figure out how long to let it percolate). Very well made, cleans up easily and the handle stays cool to the touch.
6 or 9 cups, but only the 9 cup is in stock right now.
The 6 Cup is back in stock, for now at least